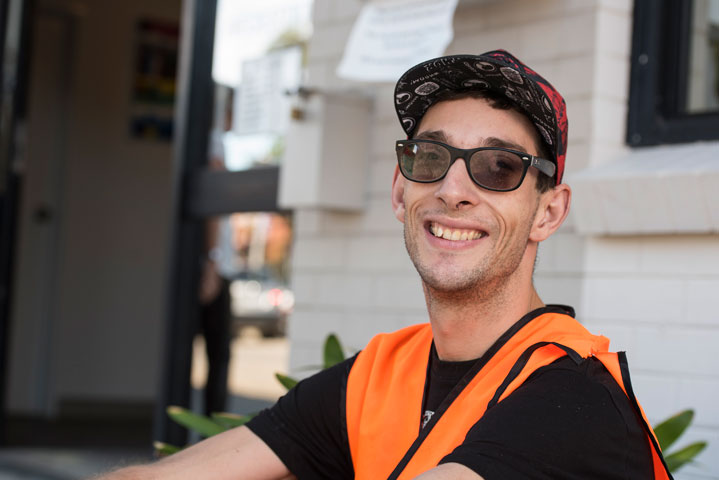 Aaron's Story
Aaron is relatively new to Civic, but he's already a big part of the Civic community.
He has just moved into Civic shared accommodation and works in Industries where he also met his long-term girlfriend.
A little more than six months ago, the situation was very different. Aaron was in need of Civic's emergency accommodation respite services after finding himself in a situation common to many young people.
Now Aaron has just moved into his own long-term home in Civic shared accommodation and is currently personalising his room to make it look exactly the way he wants. He is delighted to be getting to know his five new housemates and enjoying the space and freedom of his own space, as well as the company.
Aaron enjoys the variety of his role in Civic Industries; he operates machinery, works on a range of business-to-business services, and enjoys the social aspects of the job. Civic holds regular BBQs for staff, often with raffles and prizes to be won. Employees also socialise together at the on-site gym and on social outings.
The work at Civic is offering Aaron the chance to learn new skills that will help him to progress his career. All supported employees at Civic are given a personalised career plan and the opportunity of both on-the-job and vocational training.
Aaron is also improving his self-sufficient living skills at home with the opportunity to do more cooking, eat more healthily and travel independently to work.
In his spare time Aaron pursues his passion for cycling, both mountain biking and road cycling. He loves it so much that even a broken bone – or two – hasn't stopped him. He is also a big music fan, particularly death metal, and enjoys watching movies, visiting the beach and eating out with his girlfriend.
We at Civic feel privileged to be a part of Aaron's story and in helping him to realise his potential.