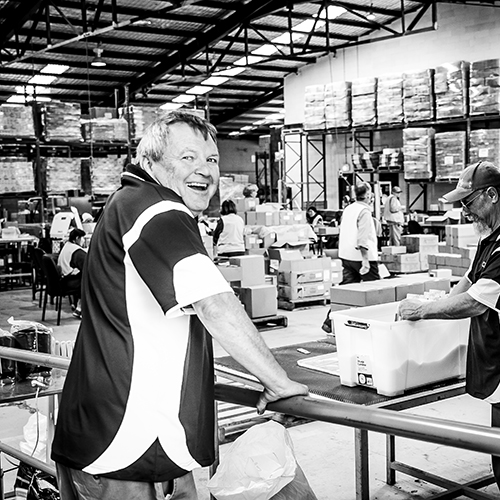 Disability Services Care Roles
At Civic, our disability services jobs are so much more than simply filling a role; they are about making a marked difference in the lives of people living with a disability. Civic has provided services to individuals with intellectual disabilities and mental health conditions for almost 60 years and, due to our continued growth, we are currently seeking individuals with a positive and proactive approach to supporting our clients and strengthening their capability for autonomous living.
The most rewarding part of pursuing our disability care jobs is the opportunity to enhance the lives of real people in an impactful way – helping to create peace of mind for our client's families and the surrounding community.
You do not necessarily need special qualifications to be involved with disability care jobs. What matters most is your compassion for others and your desire to help others reach their full potential.
Career Opportunities

At Civic, there is a diverse range of career opportunities with different focus areas:

Shared Living
Our clients live in self-contained accommodation, ranging from units to multi-room houses located in the Sutherland Shire, St George, Western Sydney, South Western Sydney and the Blue Mountains. You will be there to provide extra support in completing daily tasks and help the housemates delegate roles and plan activities.

Short stay and transitional accommodation
These are a 'home away from home' in which our clients can get to know others and develop the skills necessary to transition into independent shared living. You will teach them practical skills such as cooking, guide their goal setting, facilitate friendship in a welcoming environment and organise social activities such as movie or game nights.

Aged care
At Civic, we offer a temporary aged care facility that is fully equipped to support the elderly and those with dementia. Our staff can prepare home-cooked meals for them, facilitate arts and crafts sessions, as well as host board games.

Career Opportunities

At Civic, there is a diverse range of career opportunities with different focus areas:

Community hubs and social activities
At our community hubs in Hurstville, Sutherland, New Era and Wattle Grove, we offer a range of exciting activities. These range from swimming, Zumba, bowling, yoga, gardening, day trips and barbeques. There are also holiday programs ranging from a weekend away to an international holiday. You will be able to choose which programs you would like to assist in, giving you a great deal of choice and flexibility.

Learning and upskilling program
To help our clients become independent in society, we hold a wide variety of skills workshops. As part of your disability service job, you will help organise and facilitate cooking and computer skills classes. In addition, you will train clients in travel, budgeting and work readiness skills.

Take the next step

If you are passionate about helping others reach their full potential, and if the above roles appeal to you, don't hesitate to submit an application via our careers page. Or, to find out more about current vacancies at Civicm contact the Customer Experience Team on 1300MYCIVIC (1300 692 484) or email enquiries@civic.org.au.