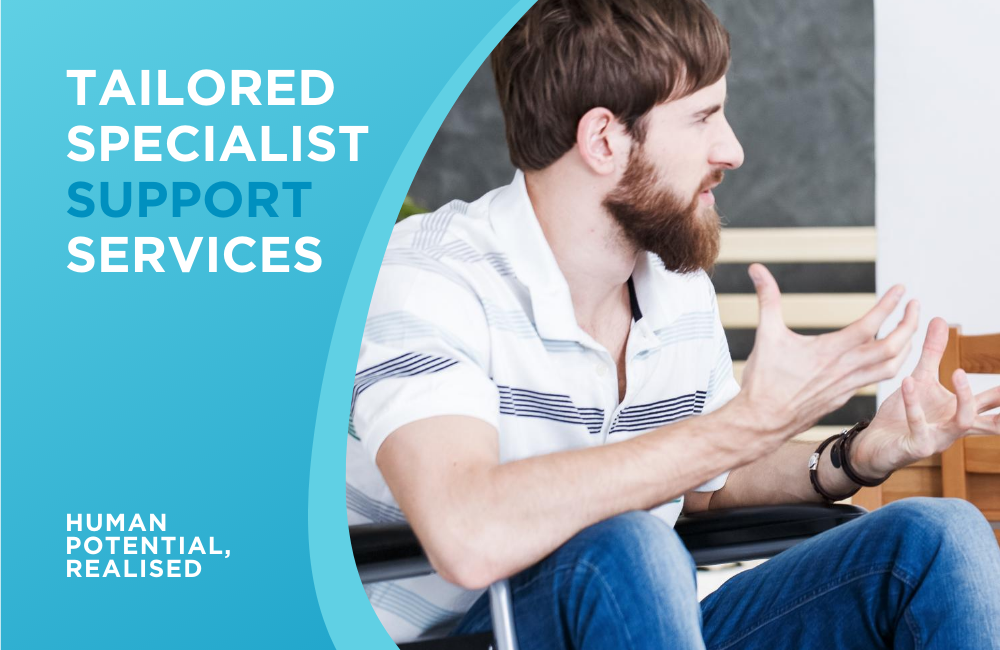 Health & Wellbeing Support Services
Civic provides a range of individualised supports to complete everyday personal activities, thereby assisting in the transition to more independent living.
Our experienced, clinical support staff work collaboratively to provide a holistic, person-centered service. Using evidence based therapies aimed to achieve your social, emotional, physical and vocational goals and reach your full potential. We provide tailored specialist services including speech pathology, nursing, psychology, and behavioral support.
Civic staff use a Person Centred Active Support (PCAS) approach with a range of living activities.
Our Clinical Services

Our dedicated Clinical Services Team provide a holistic, person-centred service. The team works collaboratively with clients, families, carers and other service providers to develop achievable plans. Assessment and therapy are evidence-based to ensure effective services are delivered.

What services do we offer?

Our dedicated Clinical Services Team are committed to providing comprehensive clinical services – ranging from, speech and communication reviews, nursing, behavioral, counselling and psychological support.

What type of supports are available?

Our clinicians can also assist with support for eating and drinking difficulties, strategies to improve everyday tasks such as handwriting, dressing, cooking and playing. Behavioral concerns, mental health issues or social and emotional difficulties can also be supported through us as well. We also provide Medicare and individual billing for non-NDIS appointment and referrals.

Complex health reviews and Nursing Care need assessments

Hospital Discharge planning for complex care needs clients

Continence care- catheter changes

Specialist Support Services with Civic

Our Clinical Services Team work collaboratively using evidence based therapies. We aim to provide effective therapy to all clients to achieve their social, emotional, physical and vocational goals and reach their full potential.

Civic can provide, or provide access to, a range of therapeutic and specialist support services such as:

Speech pathology/therapy – including speech, language and swallowing assessment and therapy.
Nursing – assisting patients with their personal care needs and reviews. Nursing care planning begins when the client and is continuously updated throughout in response to client's changes in condition and evaluation of goal achievement. Planning and delivering individualized or patient-centered care is the basis for excellence for the nursing supports Civic aims provide.
Psychology – including counselling and understanding how people think, feel, behave and learn.
Behaviour support – creating individualised strategies for people with disability that are responsive to the person's needs, in a way that reduces the occurrence and impact of behaviours of concern and minimises the use of restrictive practices.

Speech Pathology at Civic

Jaimie Summerfield

Jaimie is a Speech Pathologist at Civic, and is passionate helping people of all ages and abilities to achieve their communication goals. Jaimie has experience working with kids and adults with ASD, ADHD, Down Syndrome and learning difficulties on speech, language, stuttering and social skills. She has implemented AAC solutions for nonverbal communicators including Proloquo2go, PECS and Key Word Sign.

Jaimie enjoys working with people in their everyday environments in collaboration with their families, teachers, doctors and other therapists. She is fully mobile and available to visit you at home, work or school.

Call 1300 692 484 to find out more about our Speech Pathology services.

Contact Civic

To find out more about Civic's Clinical Services, contact the Customer Experience Team on 1300MYCIVIC (1300 692 484) or email enquiries@civic.org.au.