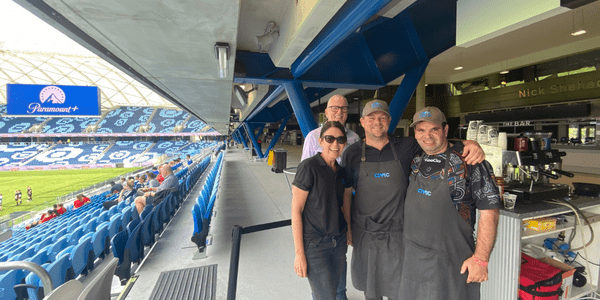 On Tuesday 25th October, Civic was honoured to support the 2022 Indigenous Charity Football Tournament at Allianz Stadium.
John Moriarty Football hosted the tournament, bringing together corporate teams to raise funds to support the continued delivery of its transformational skills programs using football for talent and positive change.
It was a fantastic event to be involved with and our Civic Kitchen & Catering team were on site serving up delicious coffees to players and spectators.
Rodney, a long-time sports fan, was excited to attend the event, helping to serve coffees to players, meet John Moriarty and connect with his mob at the inspiring venue.
The Charity Football Tournament event is part of the 2022 Indigenous Football Week which aims to unite the Indigenous football community to celebrate "Mayamantharra: Partnerships for Success" and highlight the power of working together to improve young Indigenous players' access to the life-changing benefits of football.