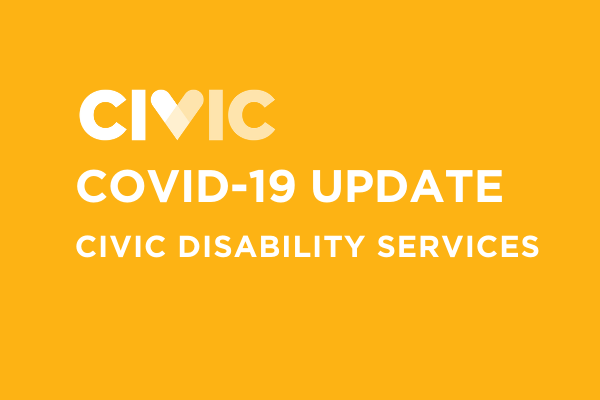 Coronavirus (COVID-19) and Civic
COVID-19 has the potential to impact disability service providers and the individuals to whom we provide support. Civic is taking specific action to maintain client and staff safety. Use the links below to navigate our approach to the COVID-19 outbreak and to access resources.
If you are concerned about COVID-19 and its potential impact on yourself or your friends and family who work or receive services from Civic, please contact us on 1300 692 484 or by emailing our Customer Experience Team at enquiries@civic.org.au.
CORONAVIRUS (COVID-19) AND CIVIC

May 15, 2020:

Today marks a significant milestone in the government's pandemic response plan, as social distancing laws are relaxed further and groups of up to 10 adults are able to gather outdoors, in cafes and in restaurants and clubs. But what does this mean for Civic? 

Throughout the pandemic, we have been listening and responding to advice from NSW Health and the government. At the same time, we have been quick to enact our own pandemic response plan, taking necessary precautions for the safety of our clients, staff and communities, where we felt necessary. This meant we suspended some services earlier than others – actions I am confident preserved the health of many staff and clients. As social distancing regulations are relaxed, we will continue to act on advice from NSW Health, while following our own pandemic response plan, keeping the health and safety of our clients and staff members as our first priority.  

We have now made plans for a safe, staged return to full services, which will follow three phases. The first phase will see the reintroduction of some services, and I have provided a summary of these below.  

Phase One – Key Changes (Click here to view)

It's important to understand that, under a Phase One return to services, not everyone will be able to return to work, and Supported Holidays and centre-based activities remain suspended – our goal is to prioritise the health and safety of our staff, clients and their households, with a safe, rather than speedy return to work. 

Those returning to Civic Industries and our cafes will be distanced in the workplace, with clear work zones, or 'neighbourhoods' in place. Those able to return to work under Phase One, will be contacted individually by their Leader on Friday May 15 or Monday May 18.  

Following the successful introduction of Phase One, we will then be looking to reintroduce more people to the workplace and to other services, as we move into Phase Two, in line with advice and recommendations from NSW Health. There are no set timescales for this, and we will be monitoring our position daily. We will release details of Phase Two and Three in the coming week.  

I understand you may have questions and we have attached an FAQs document which may address some of these. Please don't hesitate to contact our Customer Experience Team on 1300 692 484, or by emailing enquiries@civic.org.au.  

New services

Additional services including respite and Medium Term Accommodation (MTA) are being offered to those in immediate need.

Remote services are available from Monday April 20 to existing Civic clients. These include live cooking, art, music and fitness classes as well as access to on-demand content.

Food delivery and food boxes are now also available.

Communications

Civic are committed to keeping clients, staff and families informed. Communications will be sent regularly to all stakeholders and this web page will be regularly reviewed and updated. Please also ensure you follow our social channels on Facebook and Instagram for easy updates.

Keeping Yourself Safe

Coronavirus is a respiratory illness, with symptoms ranging from a mild cough to pneumonia. Some people recover quickly and easily, and others may get very sick, very quickly. The Department of Health website has some key resources to help you if you are at risk, need to isolate yourself, or want to learn more about prevention.

In addition, we have created the following Easy-Read guides:

Additional Resources

World Health Organisation Coronavirus Site

Department of Health – COVID-19

NDIS and Disaster Response – Coronavirus Information

Australian Psychological Society – Tips for coping with Coronavirus anxiety

Beyond Blue – Information to help with mental health issues such as stress, depression and anxiety in relation to COVID-19

Contact Us

If you are an NDIS participant and you are concerned about your exposure to coronavirus (COVID-19), the Department of Health has a specific hotline to respond to your enquiries. 1800 020 080 (24 hours a day, seven days a week).

If you are deaf or have a hearing or speech impairment, you can use the National Relay Service to access any of the department's listed phone numbers. You can visit the National Relay Service website or call 1300 555 727.

To find out more from Civic, contact the Customer Experience Team on 1300MYCIVIC (1300 692 484) or email enquiries@civic.org.au.