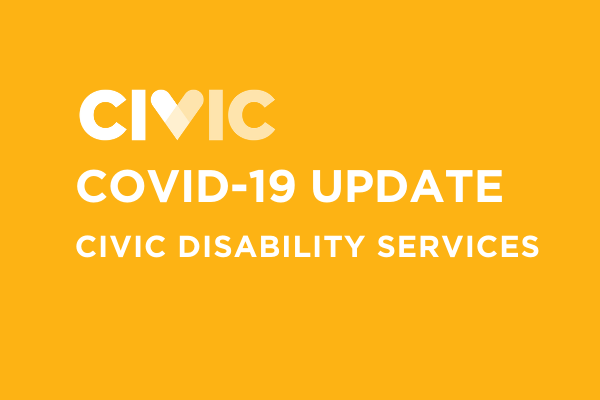 Coronavirus (COVID-19) and Civic
COVID-19 has the potential to impact disability service providers and the individuals to whom we provide support. Civic is taking specific action to maintain client and staff safety. Use the links below to navigate our approach to the COVID-19 outbreak and to access resources.
If you are concerned about COVID-19 and its potential impact on yourself or your friends and family who work or receive services from Civic, please contact us on 1300 692 484 or by emailing our Customer Experience Team at enquiries@civic.org.au.
CORONAVIRUS (COVID-19) AND CIVIC

April 1, 2020: As we come to terms with what this pandemic means for us as an essential service provider, I want to take this opportunity to update you on the services we are delivering, and thank all of you for your patience, cooperation and understanding during this time.

While we have rigorous and robust processes in place to screen potential cases and protect our staff, clients and the wider community as far as we can, we are reliant on everyone adhering to the recommendations of the government to limit travel outside of the household and maintain social distancing. It is only by working together that we can protect the vulnerable and slow the spread of coronavirus.

Service Update

While we have temporarily suspended the delivery of some services, specifically supported employment, supported holidays and day programs, our supported accommodation remains fully operational and we have moved quickly to provide additional services to support you and your families during the pandemic. These are:

1:1 Virtual Support – our 1:1 support offering will be transitioning to a virtual and remote delivery in the coming days. As well as being able to assist in collecting groceries and medication and delivering pre-cooked meals, we will release a timetable of remote activities for clients to participate in, including health and fitness programs, music and art therapy, drama and other entertainment. These will be available via our online platform, Civic At Home. This is an exciting step in the continuation of our service delivery and further details will be released soon.
Short and medium-term accommodation – for those in need of emergency respite, or who are waiting on permanent accommodation, we are now able to offer short and medium-term accommodation. Please note, a minimum booking period of 14 days applies to short term accommodation in order to allow us to deliver this service efficiently during the pandemic.
Food delivery – our Kitchen and Catering service remains operational and we have moved to provide contact-free food delivery to assist those struggling to obtain groceries or to cook during the pandemic. This service will be expanding over the coming weeks in order to allow for the delivery of food boxes and we will update you when this is available. You can click here to access the current menu and call 0295200355 to place an order.

At this time, it's important for us and other providers to be flexible in the way these services are funded. We are working closely with the NDIA to ensure they are aware of additional services our clients need at this time, that there is funding available, and that we can track the additional supports you may need.

Moments that Matter

In the last seven days, I have continued to be impressed by the ways in which our clients and staff have been able to create magical moments in the home environment. Just a few examples include

turning lounge rooms into pop-up cafés on the weekend;
organising and taking part in digitally connected dinner parties;
getting fresh air by working in our gardens;
playing board games and puzzles together;
and turning dining room tables into table tennis courts!

I know we will continue to see even more examples of ingenuity as the pandemic continues.

I am similarly proud of the way in which Civic has been able to support the Department of Health over the past seven days, mobilising teams and properties to help accommodate and support those being discharged from hospital in order to make essential space during this time.

As the pandemic continues, I expect to see some further changes in the coming days. This will include further scaling back of our Cawarra Road operations, so that only a few staff remain on-site; and further restrictions regarding family visits to our accommodation properties. Home managers will be in touch over the next few days with details around digital connection, as we know the importance of staying connected during this time.

Again, I thank you for your continued cooperation, and direct you to our website for the latest information on our COVID-19 response. Please don't hesitate to contact us if you have questions, recommendations or concerns.

Annie Doyle, CEO.

Confirmed Service Interruptions

Supported holidays have been 

temporarily suspended

 for three months. 

 

Supported employment will be suspended from Monday March 23 until further notice.

 

Delivery of centre-based activities and social groups will be suspended from Monday March 23 until further notice.

 

Head office operations will

continue remotely from Wednesday

March 18 until further notice.

 

 

There is no interruption to our accommodation, support coordination or clinical services and additional measures are in place to ensure the safety of our staff and clients. Our catering services remain operational and bulk food can be ordered for those in need of food or in isolation. Additional services including respite and Medium Term Accommodation (MTA) are being offered to those in immediate need. 

Communications

Civic are committed to keeping clients, staff and families informed. Communications will be sent regularly to all stakeholders and this web page will be regularly reviewed and updated. Please also ensure you follow our social channels on Facebook and Instagram for easy updates.

Keeping Yourself Safe

Coronavirus is a respiratory illness, with symptoms ranging from a mild cough to pneumonia. Some people recover quickly and easily, and others may get very sick, very quickly. The Department of Health website has some key resources to help you if you are at risk, need to isolate yourself, or want to learn more about prevention.

In addition, we have created the following Easy-Read guides:

Additional Resources

World Health Organisation Coronavirus Site

Department of Health – COVID-19

NDIS and Disaster Response – Coronavirus Information

Australian Psychological Society – Tips for coping with Coronavirus anxiety

Beyond Blue – Information to help with mental health issues such as stress, depression and anxiety in relation to COVID-19

Contact Us

If you are an NDIS participant and you are concerned about your exposure to coronavirus (COVID-19), the Department of Health has a specific hotline to respond to your enquiries. 1800 020 080 (24 hours a day, seven days a week).

If you are deaf or have a hearing or speech impairment, you can use the National Relay Service to access any of the department's listed phone numbers. You can visit the National Relay Service website or call 1300 555 727.

To find out more from Civic, contact the Customer Experience Team on 1300MYCIVIC (1300 692 484) or email enquiries@civic.org.au.