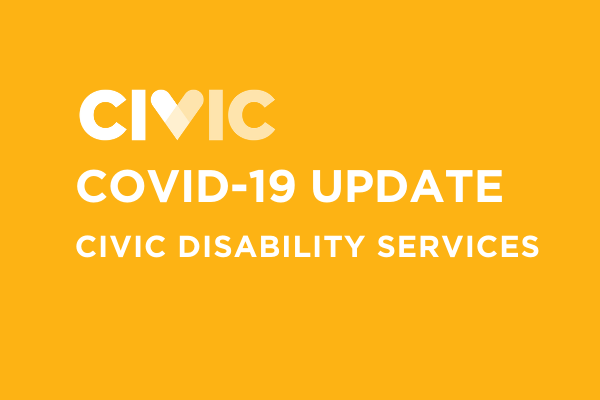 Coronavirus (COVID-19) and Civic
COVID-19 has the potential to impact disability service providers and the individuals to whom we provide support. Civic is taking specific action to maintain client and staff safety. Use the links below to navigate our approach to the COVID-19 outbreak and to access resources.
If you are concerned about COVID-19 and its potential impact on yourself or your friends and family who work or receive services from Civic, please contact us on 1300 692 484 or by emailing our Customer Experience Team at enquiries@civic.org.au.
CORONAVIRUS (COVID-19) AND CIVIC

Response to localised NSW outbreaks, July 20, 2020

As the number of community transmissions of COVID-19 increases, we have put in place extra measures to protect our staff and clients, in line with recommendations from NSW Health and with our pandemic management plan.

No visitors will be allowed at any of Civic's sites located in identified NSW Hot Spots – currently Liverpool, Fairfield, Campbelltown, Camden, Wingecarribee and Wollondilly. Those families affected will be contacted by their Practice Leader, and video calls will be organised to ensure continued communication.
Visitors to all other Civic sites will be screened prior to access, to ensure they have not been in any of the Hot Spots.
Staff who live in, or work in any of the NSW Hot Spots will now have to wear surgical masks while on site.

For those properties located in the identified NSW Hot Spots, staff will be supporting clients to access and take part in remote activities via the Civic @ Home platform, and limiting non-essential outdoor activities.

Existing pandemic protocols remain in place.

We will continue to closely monitor the situation in NSW as it evolves, and take extra steps as necessary. These will be communicated to you immediately.

Please visit civic.org.au/covid19 for our latest updates, and call 1300 692 484 if you have any questions.

Thank you for your continued support.

Warm regards,

Annie Doyle

CEO, Civic Disability Services

Response to localised NSW outbreaks, July 14, 2020:

As cases of community transmission begin to increase in NSW, I want to reassure you that, once again, Civic is acting with the health and safety of our clients, staff and your families front of mind. Protecting our community from COVID-19 remains our priority, as it has been since February this year.

Since the emergence of isolated COVID-19 outbreaks in Victoria, we have been closely monitoring the evolving situation and updating our pandemic response plan accordingly.

These outbreaks are now affecting the regions within which we operate, which means the protocols we have put in place over the past five months are again of the utmost importance, and are being reviewed and reinforced daily.

While we remain in our current Phase 2 Return-To-Services plan, and there is no change to our current level of restrictions, we are reminding everyone of the measures that are currently in place across Civic:

Any incident of sickness is being reported to senior management for triage, and staff are to stay home if they or a member of their families are sick
A medical clearance is required for anyone returning to work from sick leave
Anyone accessing a Civic site is to have their temperature screened, and access is denied to anyone presenting with a temperature above 37.5 degrees.
Visitor books are being maintained
Social distancing is in operation at all sites
Our Return-To-Activities tool remains in place to prioritise the safety of clients returning to activities such as work and community activities.

As essential service providers, it is critical we prioritise the safety of those we are supporting, as well as those delivering the supports. I would also like to take this opportunity to reassure you that we currently have sufficient Personal Protective Equipment (PPE) to ensure the continued, safe delivery of supports to our clients, and that we will continue to maintain our supply.

Throughout the pandemic, we have taken guidance from NSW Health. However, we have also acted in the best interests of our clients, staff and wider communities, which has meant, on occasion, acting before official advice. Should we believe we need to reintroduce measures or restrictions, we will not hesitate to do so. As the current situation evolves, we will therefore proactively review our approach, and I will inform you immediately should any further measures be taken.

I want to again ask for your support as we navigate the current risk of COVID-19 outbreaks in this uncertain time. If you have any questions or concerns, I urge you to let us know. You can email enquiries@civic.org.au or call 1300 692 484. Please also refer to our website for our most up-to-date information relating to the Coronavirus pandemic.

Warm regards,

Annie Doyle
CEO, Civic Disability Services

~~~

June 12, 2020: Phase 2 Return To Services

As New South Wales continues to see low numbers of COVID-19, we are now actively looking towards the next stage in our Phased return to services.

As you will be aware, NSW will see more restrictions lifted from Saturday June 13. At this time, NSW expects to see the reopening of community centres, with the four square metre rule remaining in place across all venues.

What does this mean for Civic's services?

As the rate of new COVID-19 infections and the incidence of community transmissions remain low, we will be removing certain restrictions next week. From Monday June 15, we will be moving into Phase 2 of our Return To Services Plan. We have summarised below what this means for our services.

Phase Two Return To Services – Key Changes

It's important to understand that, while we are slowly easing restrictions, under Phase 2 not everyone will be able to return to work or centre-based activities, and supported holidays remain suspended. Our goal remains to prioritise the health and safety of our staff, clients and their households, with a safe, rather than speedy return to work.

Next week, you will be contacted by your Leader to discuss your individual, safe return to Civic services. This will look different for everyone, and we appreciate your continued support and patience as we prioritise the health and safety of our community.

Those returning to Civic Industries and our cafes will be distanced in the workplace, with clear work zones, or 'neighbourhoods' in place.
Our hubs will also not yet be able to accommodate all those who enjoyed centre-based activities prior to the pandemic, and we will continue to use our Return To Activities tool to prioritise the safety of those who may be able to return.

As we move into this new phase, we will continue to act on advice from NSW Health, while following our own pandemic response plan, keeping the health and safety of our clients and staff members as our first priority.

We have no set timescales for the further relaxation of restrictions and will continue to review and update our response daily, while keeping you informed.

Please don't hesitate to contact our Customer Experience Team on 1300 692 484, or by emailing enquiries@civic.org.au. We look forward to releasing further details regarding Phase 2 in the coming weeks.

Warm regards,
Annie Doyle
CEO, Civic Disability Services

---

New services

Additional services including respite and Medium Term Accommodation (MTA) are being offered to those in immediate need.

Remote services are available from Monday April 20 to existing Civic clients. These include live cooking, art, music and fitness classes as well as access to on-demand content.

Food delivery and food boxes are now also available.

Communications

Civic are committed to keeping clients, staff and families informed. Communications will be sent regularly to all stakeholders and this web page will be regularly reviewed and updated. Please also ensure you follow our social channels on Facebook and Instagram for easy updates.

Keeping Yourself Safe

Coronavirus is a respiratory illness, with symptoms ranging from a mild cough to pneumonia. Some people recover quickly and easily, and others may get very sick, very quickly. The Department of Health website has some key resources to help you if you are at risk, need to isolate yourself, or want to learn more about prevention.

In addition, we have created the following Easy-Read guides:

Additional Resources

World Health Organisation Coronavirus Site

Department of Health – COVID-19

NDIS and Disaster Response – Coronavirus Information

Australian Psychological Society – Tips for coping with Coronavirus anxiety

Beyond Blue – Information to help with mental health issues such as stress, depression and anxiety in relation to COVID-19

Contact Us

If you are an NDIS participant and you are concerned about your exposure to coronavirus (COVID-19), the Department of Health has a specific hotline to respond to your enquiries. 1800 020 080 (24 hours a day, seven days a week).

If you are deaf or have a hearing or speech impairment, you can use the National Relay Service to access any of the department's listed phone numbers. You can visit the National Relay Service website or call 1300 555 727.

To find out more from Civic, contact the Customer Experience Team on 1300MYCIVIC (1300 692 484) or email enquiries@civic.org.au.