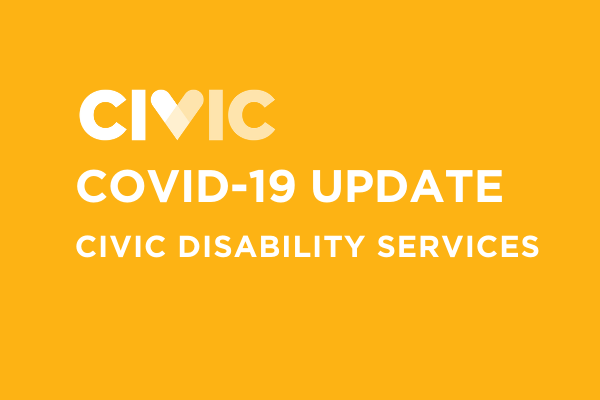 Coronavirus (COVID-19) and Civic
COVID-19 has the potential to impact disability service providers and the individuals to whom we provide support. Civic is taking specific action to maintain client and staff safety. Use the links below to navigate our approach to the COVID-19 outbreak and to access resources.
If you are concerned about COVID-19 and its potential impact on yourself or your friends and family who work or receive services from Civic, please contact us on 1300 692 484 or by emailing our Customer Experience Team at enquiries@civic.org.au.
CORONAVIRUS (COVID-19) AND CIVIC

All Civic services are now open. 

The NSW Government has now lifted restrictions affecting our services allowing us to safely reopen each of our services.

Community Hubs and Day Programs
Our Centre-based activities and evening and weekend social groups within the Greater Sydney, Nepean Blue Mountains, Wollongong and Central Coast regions are open.

All other pandemic protocols, including temperature screening and social distancing remain in place across all Civic sites.

Accommodation services
Visits to our residential accommodation homes may resume for fully vaccinated visitors from Monday 11th October.  Visitors will be required to show proof of vaccination prior to entry. All staff are working across a single site and are required to wear a mask when on site.

Supports in Employment
Supports in Employment are available for all clients across all Civic sites.

Civic@Home
If you are in need of support during this time, please don't hesitate to contact us. Our Civic @ Home platform offers a full weekly calendar of online events that are open to all and offer an important opportunity to connect and express yourself. Classes can be booked by emailing comms@civic.org.au. We are also able to provide 1:1 support if you need support in your home at this time.

Other Services

Our support coordination, clinical and one-to-one support services will remain operational with additional measures in place to ensure the health and safety of our clients and staff.

Our head office functions will also remain operational, with staff mobilized to work from home.

A reminder of our current Pandemic Protocols

The Omicron strain of COVID has seen increased cases within the community. As we remain vigilant to the ongoing threat posed by Coronavirus, the following pandemic protocols remain in place across Civic sites and services:

Surgical masks must be worn and fitted correctly at all Civic sites at all times.
All staff and visitors are required to sign in electronically using the Service NSW app when visiting any Civic site.
Anyone accessing any Civic site must show proof of vaccination or medical exemption. This includes visitors and contractors.
Temperature Screening is in place across all Civic Sites.
Social distancing is in place across all workplaces, and COVIDSafe activities planned for clients outside of the home
Anyone with any symptoms of cold and flu must not access a Civic site and must seek a COVID-19 test. If anyone living in your household is sick you must not access a Civic site until a negative COVID-19 test has been returned by the household member.
Visitors from restricted areas and those who are in isolation or have been tested are excluded from all facilities.
All staff and clients must continue to adhere to all NSW Health guidelines when outside the workplace and households.

If you need to contact us about our response to COVID-19

If you have any questions or concerns, please let us know. You can email enquiries@civic.org.au or call 1300 692 484. Please also refer to our website for our most up-to-date information relating to the Coronavirus pandemic.

New Services

Additional services including respite and Medium Term Accommodation (MTA) are being offered to those in immediate need.

Food delivery and food boxes are now also available.

Communications

Civic are committed to keeping clients, staff and families informed. Communications will be sent regularly to all stakeholders and this web page will be regularly reviewed and updated. Please also ensure you follow our social channels on Facebook and Instagram for easy updates.

Keeping Yourself Safe

Coronavirus is a respiratory illness, with symptoms ranging from a mild cough to pneumonia. Some people recover quickly and easily, and others may get very sick, very quickly. The Department of Health website has some key resources to help you if you are at risk, need to isolate yourself, or want to learn more about prevention.

In addition, we have created the following Easy-Read guides:

Additional Resources

World Health Organisation Coronavirus Site

Department of Health – COVID-19

NDIS and Disaster Response – Coronavirus Information

Australian Psychological Society – Tips for coping with Coronavirus anxiety

Beyond Blue – Information to help with mental health issues such as stress, depression and anxiety in relation to COVID-19

COVID-19 Vaccine Resources

Resources

Easy Read Fact Sheets

Auslan videos

Other resources

Contact Us

If you are an NDIS participant and you are concerned about your exposure to coronavirus (COVID-19), the Department of Health has a specific hotline to respond to your enquiries. 1800 020 080 (24 hours a day, seven days a week).

If you are deaf or have a hearing or speech impairment, you can use the National Relay Service to access any of the department's listed phone numbers. You can visit the National Relay Service website or call 1300 555 727.

To find out more from Civic, contact the Customer Experience Team on 1300MYCIVIC (1300 692 484) or email enquiries@civic.org.au.