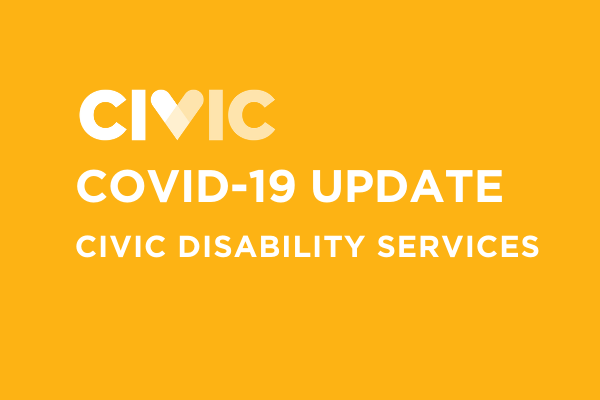 Coronavirus (COVID-19) and Civic
COVID-19 has the potential to impact disability service providers and the individuals to whom we provide support. Civic is taking specific action to maintain client and staff safety. Use the links below to navigate our approach to the COVID-19 outbreak and to access resources.
If you are concerned about COVID-19 and its potential impact on yourself or your friends and family who work or receive services from Civic, please contact us on 1300 692 484 or by emailing our Customer Experience Team at enquiries@civic.org.au.
CORONAVIRUS (COVID-19) AND CIVIC

Updated response to increasing number of infections, October 15, 2020

We are again facing an increasing number of community-acquired infections in our service regions, specifically South West and Western Sydney. For this reason, we have today escalated sites located in these regions to our Yellow Alert level, and sites will remain at this level until the number of infections and hot spots in these regions decline.

What does this mean?

This is a now familiar scenario for those living and working in these regions, but I would like to remind you what this means for you and your loved ones in our care.

Visitors are restricted in these regions. Due to the heightened risk of infection in these regions at this time, visitors are requested to contact the site directly to organise safe visiting practices, and we will assist in making alternative arrangements to ensure you can keep in touch with your loved ones. A separate, safe area is available at all affected sites to ensure Allied Health professionals and other essential service providers can be welcomed safely, but all non-essential visits will be postponed.
All staff are required to wear PPE while at work. As an organisation we are well equipped with PPE, and all staff living in or working in these regions will be required to wear surgical masks and other PPE while at work.
COVIDSafe, remote services and activities are being prioritised to ensure all keep connected participate and enjoy their weekly activities.

As clients continue to access services outside of Civic, our Return-To-Activities form is also being used to ensure other providers our clients may be interacting with have similar measures in place to prioritise the health and safety of clients and the wider community. We encourage you to speak to your other service providers to ensure they have COVIDSafe precautions in place.

A reminder of other Pandemic Protocols

As we remain vigilant to the ongoing threat posed by Coronavirus, all existing protocols remain in place:

Any staff with symptoms of cold or flu are asked to stay home, get tested, and not return to work until a negative test has been received. This applies to all staff including those working at Civic Industries.
Temperature Screening is in place across all Civic Sites
Known hot spots are circulated daily and anyone who has been at a known hot spot is not permitted entry
Social distancing is in place across all workplaces, and COVIDSafe activities planned for clients outside of the home
A heightened cleaning regime is in place
Staff remain on a single-site roster, working across a single site to minimise the risk of infection

Do you need support?

As we have now been experiencing these conditions for almost 10 months, I would again like to thank you for your continued support. If you're aged over 65 and have been affected by the pandemic, I would also like to let you know that our new Flexible Aged Care service is now available to support older local residents of all abilities at low, or no-cost. Currently this service is only available in Sutherland Shire.

The service offers a wide range of support options including assistance with social outings, home visits where staff can assist with laundry, cleaning and cooking, support visiting family and friends, attending medical appointments, or assistance with your grocery shopping. The service is subsidised by the Commonwealth home support program and, depending on services required, is available for free or at a very low cost. Please call our customer experience team on 1300 692 484 if you're in need of support.

If you have any questions, please don't hesitate to contact us, and please remember to check this page for our latest response to the pandemic.

---

Updated response to eased restrictions in service areas, September 21, 2020

NSW Health has now eased restrictions affecting Civic sites located in Sutherland Shire, Campbelltown, Camden and Georges River.

This means we are now able to welcome visitors on-site in these areas, and Practice Leaders will be in touch as soon as possible to organise a time for you to catch up with your loved ones.

Restrictions remain in place across a number of Local Government Areas (LGAs), including Liverpool, Fairfield and the Blue Mountains. A complete list of restricted areas is provided below. Both staff and visitors living in any of these locations will need to wear PPE when visiting Civic sites.

I'd like to thank you for your continued support as we navigate the COVID-19 pandemic. I understand it has been especially difficult to be separated from loved ones over the past few weeks. We will continue to update you as circumstances change. You can also contact our Customer Experience Team by calling 1300 692484 or by emailing enquiries@civic.org.au if you have any questions relating to our pandemic response.

Restrictions remain in place at:

Bankstown (part LGA),
Blue Mountains LGA,
Cumberland LGA,
Fairfield LGA,
Hunters Hill LGA,
Liverpool LGA,
Mt Druitt (suburb)
Parramatta LGA,
Randwick LGA,
Waverley LGA,
Woollahra LGAVisits can resume at all other locations.

---

Updated response to localised NSW outbreaks, September 11, 2020

In response to the current COVID-19 outbreaks in NSW, Dr Jeremy McAnulty, Executive Director, Health Protection, NSW Health, has this afternoon issued updated advice for residential disability care providers, extending the restrictions announced two weeks ago for an extra seven days.

These restrictions, which include wearing surgical masks while on site, and restricting visitor access, are designed to avoid transmission of COVID-19. These restrictions are outlined in full below.

---

Updated response to localised NSW outbreaks, August 29, 2020

On advice from NSW Health, we are today restricting access to sites located in Sutherland Shire, Penrith and the Blue Mountains. This is in addition to the restrictions already in place within other Local Government Areas (LGAs) including Fairfield and Liverpool. For a complete list of affected regions, please see below.

This means, from August 29, visitors to sites located in the affected regions will be restricted for a period of two weeks. Staff working in those regions will be required to wear surgical masks while on site, and any staff who live in any of the affected regions are also required to wear surgical masks while at work regardless of location.

These measures have been put in place following recommendations to disability service providers by the Chief Health Officer, and are in addition to all existing pandemic protocols which remain in place across Civic.

We will continue to support our clients living in affected regions to access and take part in remote activities via the Civic@Home platform, while limiting non-essential outdoor activities.

Affected Regions: 

Nepean Blue Mountains:
Blue Mountains
Hawkesbury
Lithgow
Penrith

Northern Sydney:
Hornsby
Hunters Hill
Ku-Ring-Gai
Lane Cove
Mosman
North Sydney
Northern Beaches
Ryde
Willoughby

South East Sydney:
Bayside
Georges River
Randwick
Sutherland Shire
Sydney (part LGA)
Waverley
Woollahra

South Western Sydney:
Camden
Campbelltown
Canterbury-Bankstown (part LGA)
Fairfield
Liverpool
Wingecarribee
Wollondilly

Sydney:
Burwood
Canada Bay
Canterbury-Bankstown (part LGA)
Inner West
Strathfield
Sydney (part LGA)

Western Sydney:
Blacktown
Cumberland
Parramatta
The Hills Shire

If you need to contact us about our response to COVID-19

If you have any questions or concerns, please let us know. You can email enquiries@civic.org.au or call 1300 692 484. Please also refer to our website for our most up-to-date information relating to the Coronavirus pandemic.

Services affected by COVID-19

Supported Holidays remain suspended
Centre-based activities are running at a limited capacity

All other services are currently running with pandemic protocols in place.

New services

Additional services including respite and Medium Term Accommodation (MTA) are being offered to those in immediate need.

Remote services have been available since Monday April 20 to existing Civic clients. These include live cooking, art, music and fitness classes as well as access to on-demand content.

Food delivery and food boxes are now also available.

Communications

Civic are committed to keeping clients, staff and families informed. Communications will be sent regularly to all stakeholders and this web page will be regularly reviewed and updated. Please also ensure you follow our social channels on Facebook and Instagram for easy updates.

Keeping Yourself Safe

Coronavirus is a respiratory illness, with symptoms ranging from a mild cough to pneumonia. Some people recover quickly and easily, and others may get very sick, very quickly. The Department of Health website has some key resources to help you if you are at risk, need to isolate yourself, or want to learn more about prevention.

In addition, we have created the following Easy-Read guides:

Additional Resources

World Health Organisation Coronavirus Site

Department of Health – COVID-19

NDIS and Disaster Response – Coronavirus Information

Australian Psychological Society – Tips for coping with Coronavirus anxiety

Beyond Blue – Information to help with mental health issues such as stress, depression and anxiety in relation to COVID-19

Contact Us

If you are an NDIS participant and you are concerned about your exposure to coronavirus (COVID-19), the Department of Health has a specific hotline to respond to your enquiries. 1800 020 080 (24 hours a day, seven days a week).

If you are deaf or have a hearing or speech impairment, you can use the National Relay Service to access any of the department's listed phone numbers. You can visit the National Relay Service website or call 1300 555 727.

To find out more from Civic, contact the Customer Experience Team on 1300MYCIVIC (1300 692 484) or email enquiries@civic.org.au.