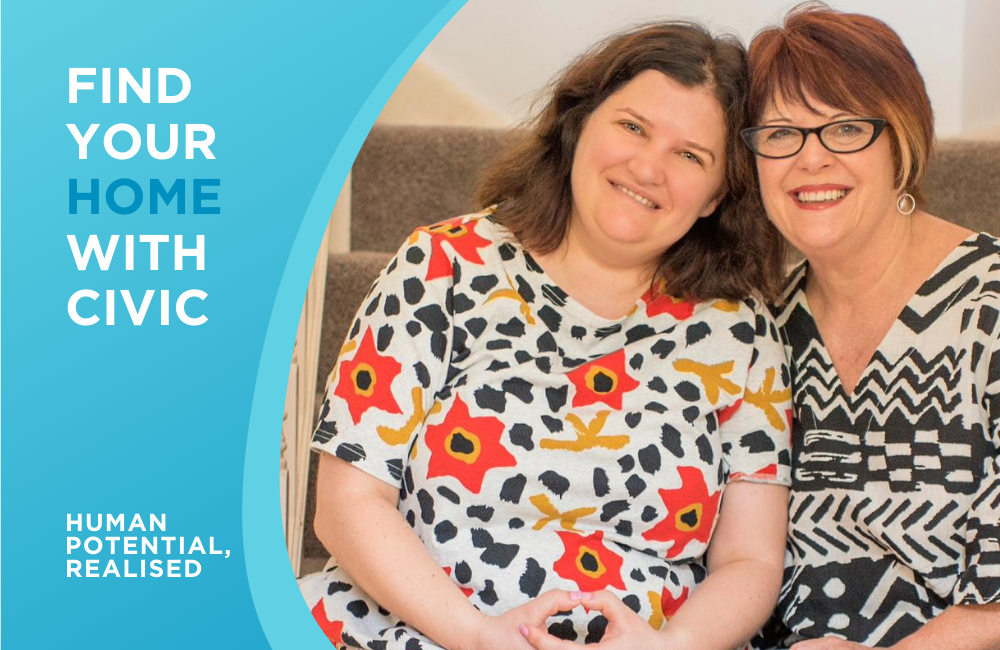 Supported Independent Living (SIL)
Civic has supported individuals with disability for over 60 years and are leading experts in accommodation services. We understand moving out of home can be daunting, but we're here to support you and the whole family. Based on what you're looking for, whether it be living alone or with others, we'll match you to the best accommodation that meets your needs. If you choose to live with others, or if you have a group of friends that you want to live with, let us know and we'll make it happen.
Our long stay options include individual units, shared living homes as well as purpose-built developments. For more information on how Civic can help you find a home that meets your needs, contact the Customer Experience Team on 1300MYCIVIC (1300 692 484) or email enquiries@civic.org.au.
Shared Living Homes

We provide a selection of supported independent share-houses for groups of two or more. Living options include multi-room houses, self-contained units and villas. This is a good option for people who want to live independently yet still require access to social support.

Our extensive expertise is used to match you with the right people and accommodation to ensure the best long-term fit for you. The process of choosing and moving to a new home can be made easier for you, with expert support provided at each stage.

Housemates are expected to share roles and responsibilities within the home, and meet up regularly to discuss and plan tasks and events. Staff will be available to offer support with daily tasks such as cleaning, laundry, goal-setting and grocery shopping.

Aged Care Accommodation

COVID-19 update: please note, overnight respite services have been suspended until further notice following a directive from NSW Department of Health. Please contact us on 1300 692 484 or email enquiries@civic.org.au to discuss alternate services which may be suitable for your needs at this time.

---

We offer short-stay experiences for people of all abilities, who are aged 65 and over. Think of it as a short holiday where you can socialise with others, go on outings or relax in your apartment.

Situated in a prime location within the Sutherland Shire, close to cafés, beaches and parks. Tell us about your favourite activities and we try our best to incorporate these into your stay with us.

Civic's Aged Care Short Stay is a secure facility with usually only three guests at a time. We have independent room options, or a room attached to staff areas for those that require a greater level of support.

People over 65 years are eligible for Aged Care Respite through My Aged Care (MAC).

Specialist Disability Accommodation (SDA)

The shortage of disability accommodation in Australia has been well documented, especially with regard to Specialist Disability Accommodation (SDA). 

Specialist Disability Accommodation helps people to have more independence while still receiving the care they need. Our purpose–built housing helps to deliver supports tailored towards personal requirements. Click here to view our current SDA vacancies.

If housing is one of the supports listed on your plan, then you may also be able to get NDIS SDA funding to help you with the financial side of things. This would usually be because you need to live in purpose-built Specialist Disability Accommodation to receive the care you require.

Apartment Living & Concierge Support Services

Civic have been championing the inclusivity of those with disability for more than 60 years, and are now looking ahead to the future, conceiving best-practice housing models that boost independence whilst creating a more enduring community for clients.

In line with our enduring mission to realise human potential, we are excited to be expanding our accommodation offering to include high quality, accessible apartments for people with high physical support needs.

The apartments are situated in prime locations; close to transport, shops and other amenities; and feature open-plan living and stylish finishes. A variety of on-site support options are available for clients with disabilities.

Our services cover emergency situations, in-home staff supports, unplanned staff supports, general assistance, Supported Independent Living (SIL) and service-related enquiries.

Read more about our Concierge Support Services here.

If apartment living is of interest to you, contact us for more information.

Haven't found what you're looking for?

We offer accommodation services in many locations. Perhaps you want the freedom of living alone, or enjoy the comfort of living with a friend, maybe you want to live in granny-flat? Despite your circumstance; we'd love to hear from you and help you to find a supportive and welcoming home that ticks all your boxes.

Contact Us

To find out more about Civic's accommodation options, or if you can't find a home that meets your needs, contact the Customer Experience Team on 1300MYCIVIC (1300 692 484) or email enquiries@civic.org.au.