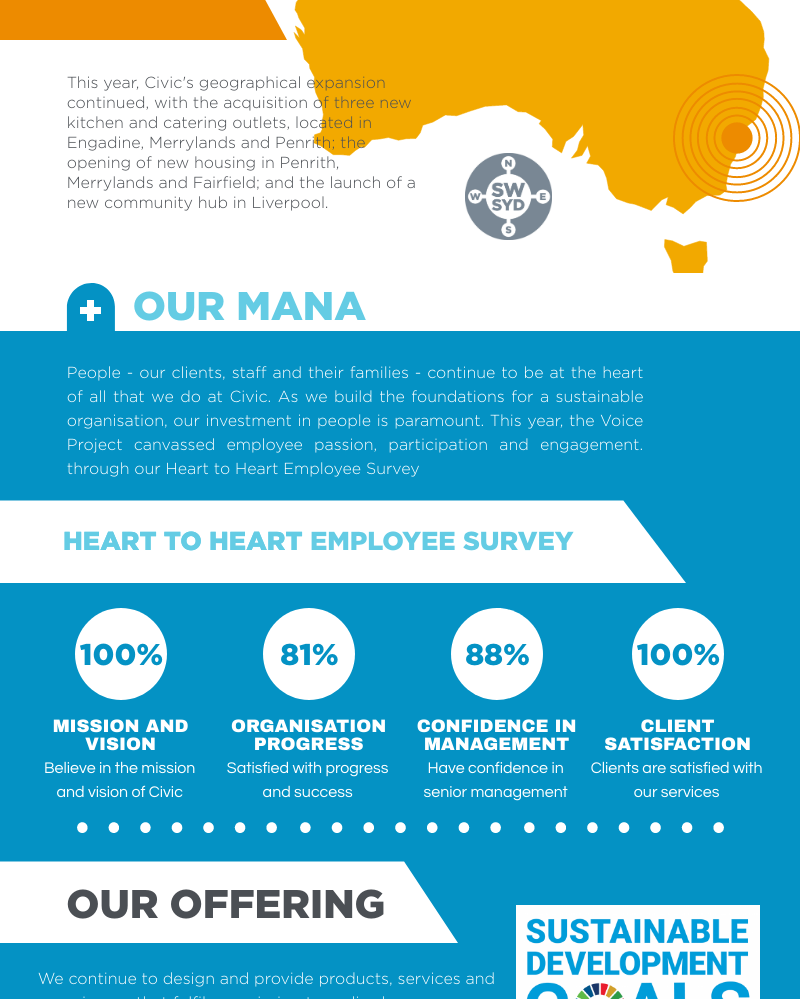 A message from our CEO and Chair
Last year, we celebrated our 60th year – our diamond anniversary. Twelve months on and, as an organisation, we are now in the midst of building the foundations for the next 60 years of Civic – a future that is sustainable; that is underpinned by our people; that continues to deliver thousands of every-day moments that matter; and which delivers a trusted and meaningful service to our clients, partners and communities.  As we now position ourselves as a global voice and a leading influence in the disability sector, we take great pride in looking back at some of our achievements over the past 12 months.
Community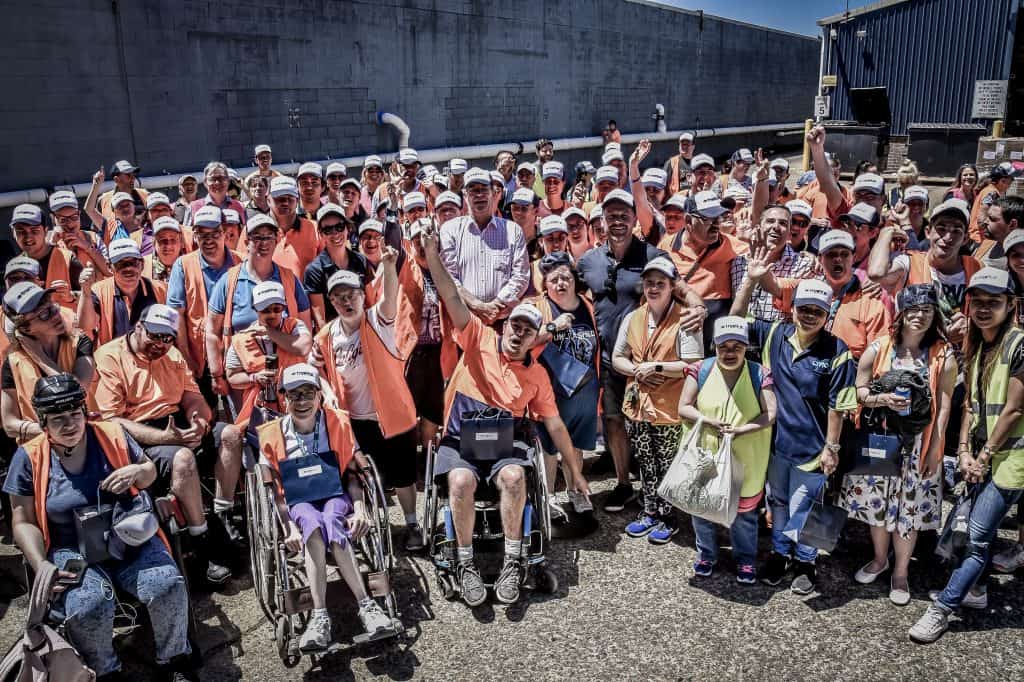 The rate of unemployment for people living with disability remains unacceptably high. Worse than this, it's increasing. People aged between 15 and 64 with a disability have both lower participation and higher unemployment rates than people without a disability. It's a sad fact that people with disability are also 10 times more likely to experience discrimination than those without a disability, and yet the benefits of employment – both to the individual and the employer – are well documented.
We're extremely proud of the impact Civic has in this area. Earlier this year, Civic Industries employed their 150th supported client. That is 150 people enjoying the social, psychological and financial benefits that employment brings to them, their health and wellbeing.
As we look to expand our impact in the disability employment sector, it's important to recognise the launch of Civic Crew. As we well know, businesses who employ people with disability benefit from the diverse range of skills, talents and qualifications that people with disability have to offer. Indeed, research shows that workers with disability have higher rates of retention, better attendance and fewer occupational health and safety incidents than those without a disability. Yet there are many barriers to employment. Civic Crew is actively breaking down these barriers, and ensuring more companies are provided with a framework to successfully integrate people with disability into their workforce.
Our supported employment offering has been complemented by the notable expansion of our kitchen and catering service. We now have five kitchens and cafes stretching from Nowra in the south, to Penrith in the west and Engadine in Sutherland Shire. Our cafes are a wonderful outlet for our supported employees to connect with the local community and ample opportunity for community partnerships and connections.
Independent Living
The last 12 months has also seen significant change in our accommodation offering – firstly in the expansion of our supported independent living. The acquisition of property in Penrith means we have expanded our services in Western Sydney, while our partnerships with St George Community Housing and Summer Housing means we are now able to offer a wider variety of accommodation options, within amazing communities, to those in most need.
Health and Wellbeing
In the last few months, we have also taken our first steps towards further improving the health and wellbeing of those living in our supported accommodation.
You may already be aware of the alarming statistics that people with an intellectual disability have a life expectancy 27 years shorter than the general population, often from preventable causes. At Civic, we are committed to reducing this statistic, and are privileged to have a direct impact on the hundreds of clients we work with on a daily basis. Our wellbeing pilot is doing critical work, introducing clients and staff to key concepts in health and wellbeing, which are already having a positive impact on client outcomes.
Collaboration
We have already touched on our partnership with St George Community Housing and Summer Housing, and it's important to celebrate the partnerships we have made in the last 12 months. Just as teamwork can drive the success of an organisation, it is through wider collaborations with like-minded organisations – both within the sector and outside it – that we can enhance our own impact and drive innovation. In the words of Louise May Alcott, "It takes two flints to make a fire."
Our wellbeing pilot, for example, would not be possible without our partnership with CM Fitness.
Another example is the work we are currently doing with Unisson to conceive and build a customer relationship management system that truly reflects not only our needs, but the needs of our clients. Working with them has allowed us to expand our understanding of the sector and conceive an end-product that will be longer lasting thanks to our collaborative approach.
Connection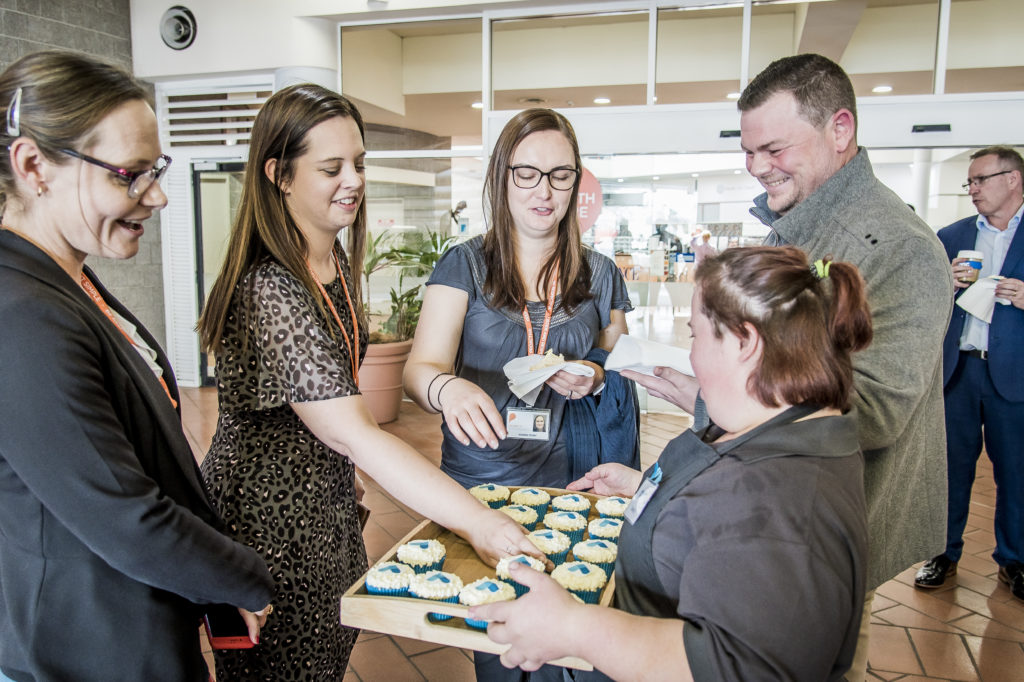 Providing opportunities for clients to connect with others and learn new skills is at the heart of our organisation, and we've seen significant growth in this area, too. The opening of our state-of-the-art Liverpool Hub is just one example of the strides we have taken in providing a more independent and socially active lifestyle to our clients.
In the last 12 months, our community hubs have been piloting our Life Skills Curriculum. Thanks to our continuing partnership with La Trobe University, the principles of Active Support are at the heart of this curriculum, underpinning the services we provide. From making healthy choices to safely accessing public transport, we are proud to now have a more structured approach to enabling clients to make small changes to their lifestyle, one step at a time.
Social Responsibility
As a growing organisation, we also have a responsibility outside of 'business as usual.' A responsibility to incorporate sustainable development and have a positive impact on social, economic and environmental outcomes. The inception of Green Warriors has already seen some wonderful outcomes, with a new commitment to reducing our use of single use plastic. We have also enjoyed watching the overwhelming impact of our Ring O' Roses initiative this year, which not only upcycles waste materials, but brings undeniable joy to those in need in the community.
Our Mana
Of course, the services we provide would not be possible without our people: our staff who work tirelessly each day to embody not only 'Our Mana', but our company mission – human potential, realised – and our values of empowerment, integrity and diversity; and our clients and their families, for whom this work is for.
As we look back on just a few of the highlights from the past 12 months, we can't help but be excited for the next 12 months and beyond: a future that promises to build on our reach and impact within the disability sector, bringing sustainable, meaningful experiences and services to those living with disability, their loved ones and communities.
Annie Doyle, CEO and Dunstan De Souza, Chair of the Board
Please note, in line with our commitment to a sustainable future, our Annual Review 2019 is presented online. You can download a PDF version of our Annual Review 2019 by clicking here. 
Financials

During the 2019 year Civic operated fully under the NDIS having invested heavily in people, systems and processes in order to maximise this transition.

Growth has continued at Civic with the third consecutive year of growth in excess of 20% resulting in an almost doubling of Revenue in three years. This growth has been carefully planned and centred around the core accommodation business which now contributes over 70% of Civic's Revenue.

The Balance Sheet continues to strengthen. In 2018 our triennial revaluation of property assets added $4.4m to Net Assets in addition to the $1.5m of Operating Surplus and in 2019 a further $1.8m of Operating Surplus has been added. Net Assets stand at $27.8m having increased more than $10m in the last three years.

The careful management of the core business enables us to spearhead innovation in other parts of the business. We now operate three cafes (at Nowra, Caringbah and Engadine) and two coffee carts (at Merrylands and Penrith) providing valuable employment opportunities for our clients. We are also investing heavily in systems and people as we continue to prepare for further growth and impact.

Our success as an organisation relies on the ongoing dedicated work of the entire Civic team together with the support of funding bodies, commercial customers and the tremendous backing we receive from the community. I wish to thank you all, our supporters, for contributing to these results.

Mike Churchman
Chief Financial Officer

Our Impact

At Civic, our mission is clear: Human Potential, Realised. Like any organisation, these words are meaningless, until you meet some of the wonderful clients we are privileged to work with every day and hear their stories. That's when it becomes clear that 'Human Potential, Realised', isn't just a mission, it's a fact.

Communicating and measuring meaningful impact, however, is complicated. How, for example, do you measure the impact independent living has on someone who has been living with and relying on their elderly parents for so long? How do you measure the impact a job has on someone who was told they'd never be employed, let alone elevated to team leader? How do you measure the impact of connectivity, socialization and education? How do you measure the impact of reuniting a separated family?

At Civic, we focus on the direct impact we have on the lives of our clients and their families. Our mindset is, as it should be, client-focused. Our collective efforts  culminate in individual stories that we are committed to sharing – highlighting the social impact those everyday 'moments that matter' have on our clients.

This year, we've highlighted our impact through storytelling: from Andrew and Joy, who have been reunited whilst encouraged to find independence; to our commitment to Human Centred Design, driving the delivery of meaningful services to our clients.

Our Stories: Finding Joy Together

At Civic, we focus on the direct impact we have on the lives of our clients and their families. Our collective efforts culminate in individual stories like this one, where a mother and son were not only supported to continue living together as a family, but have also been encouraged to explore their individual strengths and develop independent skills.

Joy and Andrew had been living together with Joy's mother – Andrew's grandmother – their whole lives. Family, to them, was so important. Unfortunately, when Joy's mother had an accident, Joy and Andrew were separated for the first time and their lives completely changed. Thankfully, Civic were able to provide accommodation to Joy and Andrew, close by to Joy's mother's new care home, and the family has been reunited.

But more than this, Civic has also afforded them independence to find themselves as individuals. Joy has completed some relationship programs, and their co-dependence on each other has lessened. Andrew has his own man's shed, with space to explore his own interests.

Their lives, today, are so much richer.

Our Stories: Skills for Life

At Civic, one of our markers for success is that those living with disability are increasingly engaged in the social, economic and cultural lives of their communities – that we can support them as active citizens, and assist them in learning the skills they need in order to fulfill a connected, included role in society.

Over the past 12 months, our Life Skills curriculum has been introduced at each of our community hubs, providing a formal framework for learning, that supports and encourages our clients to make meaningful and enduring community connections.

Thanks to our continuing partnership with La Trobe University, the principles of Active Support are at the heart of this curriculum, underpinning the services we provide. From learning to eat and cook healthy food, to safely accessing public transport, we are proud to now have a more structured approach to enabling clients to make small changes to their lifestyle, one step at a time.

Our Stories: Kiera's Story

Welcoming customers, assisting with colours and tints, organising displays and keeping the salon neat and tidy, Kiera is one step closer to realising her dream of becoming a hairdresser through her recent work experience at busy Engadine salon,  Klips & Kurls.

As a Civic client, Civic has worked with Kiera to secure work experience for her, and Kiera has been working as a salon assistant for a few hours a week, learning the ropes through real-world, on-the-job training.

Kiera's ultimate goal is to follow in her older sister's footsteps and eventually work in a salon full-time.

"I've done some work at Bunnings, Coles and Bupa," says Kiera."That was good, but this is where I really want to be. I like to meet new people and talking to the customers is really enjoyable."

Kiera certainly has a lot to keep her busy. "I have been sweeping, keeping shelves tidy, shampooing and colouring," she says. "The best part is greeting people. I say; 'please come in and have a seat!'"

"It's been fantastic to see Kiera shine while working at the salon," says support worker, Kerry."She is so focused and wants to learn everything there is to know about the job of a hairdresser.

Since joining Civic last year, Kiera's listening, writing and social skills have markedly improved. It's clear she enjoys her time here, building relationships with other students and her teachers. It's given her a huge boost in confidence to make a success of whatever job she puts her mind to."

Our Future: Innovation through Human Centred Design

At Civic, we define ourselves as a 'for-purpose' organisation. We invest in innovation, technologies and pilot ideas to drive forwards the delivery of disability services and improve the outcomes for the more than 4 million Australians living with disability. To ensure we deliver services, experiences and solutions that are truly reflective of the needs of our clients, we adopt a Human Centred Design approach.

Human Centred Design starts with the people we're designing a product, service or solution for and includes three stages: inspiration, ideation and implementation

Inspiration: 'Go Wide' and 'Go Deep', meeting with, workshopping and learning from the people we're designing a solution for
Ideation: 'Go Real' to make sense of that understanding and come up with new design opportunities and solutions
Implementation: 'Go Live' and bring the solution to life

Following this approach allows us to consider human perspective throughout the design and decision making process. By adopting human centred design, we set out with an open mind set. We believe even the biggest issues are solvable. Importantly, human centred design also asks us to believe that the people who face these problems every day – those living with disability, for example, hold the key to the answer.

Over the past 12 months, we have used human centred design to create services, experiences and social enterprises that are being embraced by our clients, because we've kept those clients' lives, beliefs and needs at the heart of the process. By following the Human Centred Design approach, we are almost guaranteed a solution that is adopted and sustainable.

Our Advocacy: A Human Rights Approach

Civic has an ethical obligation to use its involvement in the disability sector at a grassroots level to give voice to issues experienced by those living with disability. ​

With crucial partnerships and connections at a community, local government and national level, it is our responsibility to speak up and advocate for issues where we can drive real change, creating a more inclusive society that enables Australians with disability to fulfill their potential as equal citizens.

People with disabilities are more likely to live in poverty, have poor-quality or insecure housing, low levels of workforce participation and education, and be socially excluded or marginalised; they may also face violence and discrimination related to their disability and have difficulty accessing appropriate health care. Put simply, people living with disabilities are not always enjoying the human rights and fundamental freedoms they are entitled to.

We believe people are disabled not by their impairment or difference, but by barriers in society. These barriers may be physical (such as a building not having accessible toilets), or they may be a result of people's attitudes to difference.

At Civic, we reaffirm that all persons with all types of disabilities must enjoy all human rights and fundamental freedoms. It's only by looking past these obstacles, then, that we can achieve a society in which this is the case. As advocates within the disability sector, we believe it's our job to help draw attention to and overcome some of these obstacles.

Through our advocacy, we fully support the Convention on the Rights of Persons with Disabilities and promote the full realisation of all human rights without discrimination of any kind on the basis of disability, including and not limited to the right to reasonable accommodation; the right to consultation and involvement; the right to live independently and take part in all aspects of life; to live, take part and be included in the community; and to equal protection and equal benefit of the law. ​

Finally, we would like to extend our sincere thanks to those who have continued to support and guide us through the past year.

We acknowledge all the individuals, organisations, trusts, corporates and foundations who have shown their faith in our vision and mission.

We also thank and acknowledge each of our members of staff whose work has such an impact on the lives of people living with disability, and the members of our Board, who generously commit their time and expertise to the stewardship of our organisation.

Civic Disability Services