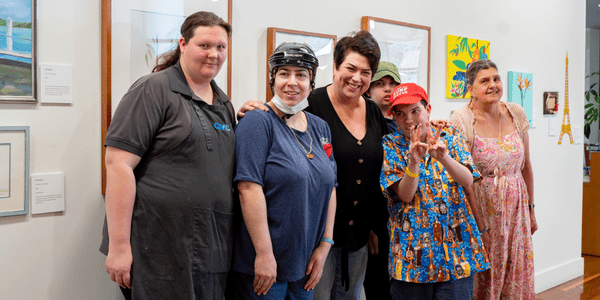 The ShireABILITY Art Award ceremony was held on 3rd December to mark International Day of People with a Disability (IDPwD) and celebrate creativity among all abilities.
Hosted by Sutherland Shire Council, the inaugural ShireABILITY Art Award invited artists with disability either living, working or going to school in the Sutherland Shire to share their creative talents by submitting their work in the competition.
Over 60 pieces of artwork were selected to be part of the competition, with all pieces on display in the ShireABILITY exhibition at Hazelhurst Arts Centre.
Included in the exhibition was artwork created and submitted by three Civic artists Therese, Rhys, Fetten.
The award winners were announced by the Mayor of Sutherland Shire, Carmelo Pesce at the award ceremony with the artists family, friends all in attendance.
Congratulations to everyone who submitted pieces and a special congratulations to the winners.
Open Award, Winner.
Kristy Lovegrove, North Cronulla Pool, 2022, watercolour and gouache on cotton paper
Open Award, Highly Commended
The Disability Trust (Miranda) Art Group, Patricia Bekiaris, Natasha Clark, Tahlee Grant, Tyne Miller, Rachel O'Hanlon, Tracey Pearson, Luke Shumacher, William Tao, Therese Watson, Bronwyn Wills, Outback Dreams, 2022, mixed media on giant cardboard jigsaw
Young People's Award, Winner
Arabella Johnson, My eye for future, 2022, watercolour on paper
Young People's Award, Highly Commended
Lachlan Brodala, Fire Dragon Monster Truck, 2022, boxes, egg cartons, ice cream lids, glitter paper, paint, corks.
Civic is proud to support and be part of this inclusive event. Civic Kitchen and Catering took part in the event serving up delicious coffee, tea and hot chocolates to guests.
Congratulations again to everyone who entered and thank you to everyone who helped make this inclusive event possible.