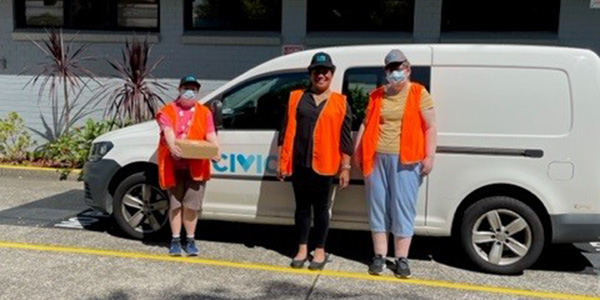 This week, members of Civic Crew had a very important job to do. Labelling themselves the Civic 'Care' Crew, a team off three Crew members took to the roads kicking off a series of special deliveries to thank Civic staff for their extraordinary efforts supporting others through challenging times of sickness and fear.
Through the week, the Crew delivered specially-packed hampers to a number of staff who had faced particular challenges through the most recent wave of the pandemic, and who had exhibited exceptional resilience and support for others while navigating their own fears surrounding the pandemic.
"The pandemic has impacted our staff, clients and community for more than two years now," says Annie Doyle, CEO, who contributed individual messages of thanks to each hamper. "In that time, our staff have had to respond quickly to evolving and complex risk management plans, endure isolation and separation and adopt strict PPE, all the while maintaining the support for others that they are so wonderful at delivering. The Omicron outbreak in late December called on an already-depleted team to work even harder, and it's only right that we recognise and acknowledge this exceptional effort."
Acknowledging, recognising and thanking staff underpins life at Civic.
"As an organisation that delivers essential supports, 24 hours a day, seven days a week, people really are the heart of our organisation," says Annie. "Staff continually place the needs of others – and the wider social impact of the organisation – ahead of their own and, in doing so, make sacrifices, face significant challenges and go above and beyond to support individuals, their families and the wider community. It's important to us that these individual commitments do not go unnoticed – that we say thank you and honour the outstanding achievements of all staff."
The special care packages, which were produced and packed by Civic's Kitchen & Catering social enterprise and delivered with a smile by members of Civic Crew, build on Civic's commitment to recognise staff achievements, which incorporates an employee recognition program, HeartBeat, and a regular 'Shout Outs' session in All Staff meetings.
Members of staff who received hampers have expressed their gratitude for the special deliveries.
"Thank you for the delivery – I truly appreciate it," wrote one care-package recipient. "I am grateful to be part of such a great and supportive team. It is through great leadership that I constantly find the motivation to keep pushing through to support the teams on the ground and of course, our clients who deserve all the work that is put in."
"Thank you for the support, appreciation and wonderful words that gave me joy!" wrote another recipient. "I am greatly honoured to be part of the Civic team."