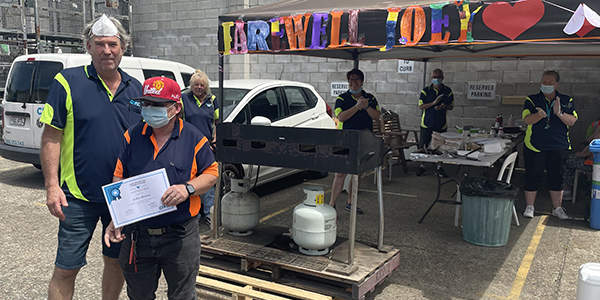 This week the team from Industries held a BBQ on Thursday to congratulate three team members on their achievements at Civic.
It was a bittersweet farewell for Joey Huang as the team expressed their best wishes to Joey as she leaves Industries to embark on a new role at Civic's Masonic Hub.
Joey has been part of the Civic Industries' team now for a few years, working various roles including Transition to Work, Employment Support and as a Floor Supervisor. Thank you Joey, for your hard work and all the support you have provided to the team at Industries over the years.
Two other team members also received recognition for their hard work and dedication to Civic Industries.
Andrew Mackerlie received a special achievement certificate congratulating him on over 40 years of service! What an amazing milestone! While Adrian Robins received an achievement certificate congratulating him on his ten years of employment with Civic.
Thank you Andrew and Adrian, and congratulations on such big work anniversaries – certainly cause to celebrate! We are grateful for your contribution and dedication to our organisation.