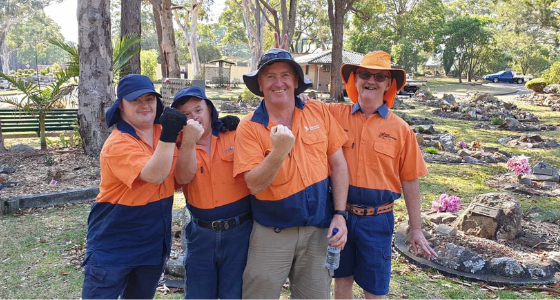 Did you know, Civic and Southern Metropolitan Cemeteries have been partners for seven years? Last week, the team at Woronora Memorial Park expressed how much they value the partnership and how much they miss Civic Crew being on site.
"We are missing having their hard-working and friendly teams on site and working with such a great group of people. We can't wait to welcome them back on site soon – we're pretty sure many of the locals who usually visit our parks are missing them too."
With many Civic Crew team members and the Park's staff working together for many years, they have developed friendships and a great working relationship – not only with each other but also the community members who visit the park.
Carly Forrester, Civic Crew Business Development Partner, caught up with some of the Civic Crew members to chat about their work at Woronora Memorial Park.
Greg Hoare, Civic Crew Leader said he was looking forward to being back there.
"It's not a job, the staff there are now our mates. It feels really personal and special. It is a real highlight of our week for the crew to go to the cemetery, and the moments had up there".
Geoff who has been a Civic Crew member at the Park for seven years said how much he enjoys working there and the fun the team has with Grant Lane, Operation and Grounds Team Leader, and his staff.
"I enjoy going to work, having fun and joke time. I am a bit of a jokester. One time Grant put one of our Civic shirts on and we called him one of the Civic boys. He's one of us."
Currently, Civic Crew is temporarily suspended due to Covid-19 restrictions. We hope, however, that we can work towards the safe resumption of these services in line with the end of the Stay-at-Home orders.
Click here to learn how Civic Crew assists organisations to employ people with disability. Or for more details please reach out to our Customer Experience Team enquiries@civic.org.au or 1300 692 484.