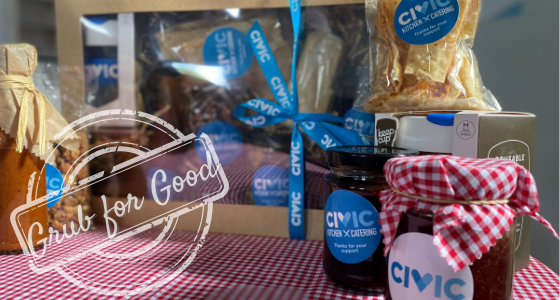 While our Cafes are currently closed to the public, the team at Civic Kitchen and Catering have been adapting to the current restrictions to provide new options to add to their menus, including ready-made meals and hampers.
One of the hampers the team has been busy making all the delicious products for is the Man-per – a Father's Day Hamper, packed full of every dad's favourites.
Texas BBQ Rub
Extra Hot Chilli Sauce
Chimichurri Meat Marinade and Dipping Sauce
Tomato and Eggplant Chutney
Bread and Butter Pickles
Lavosh Crisp Bread
Beer Nuts
Civic Glass Coffee Keepcup
Each hamper is $89 inc Sydney Wide Delivery.
If you or someone you know would like to order a hamper, please call 02 9520 0355 or email catering@civic.org.au
All products are handmade by Civic Kitchen and Catering's team of supported employees. By purchasing our products, you are creating employment opportunities for people with disabilities. #grubforgood