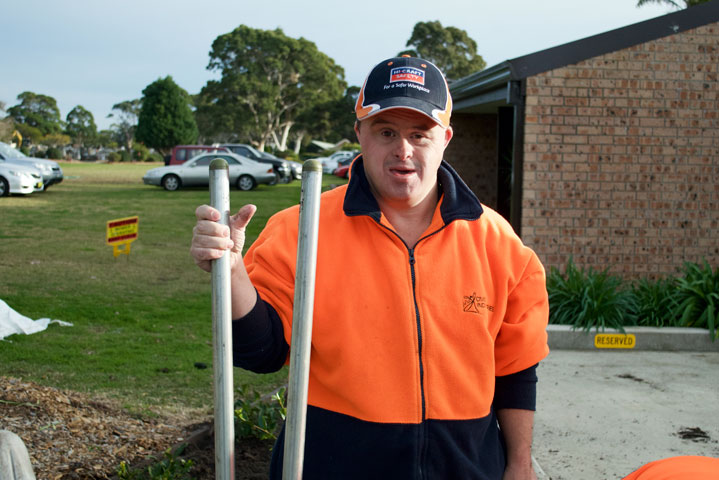 David's Story
David is a long-term member of the Civic family, having worked at Civic Industries now for 25 years. He loves being outdoors and is currently employed as a valued part of the lawn mowing team. The crew maintain the gardens of all Civic's group homes and respite centres. They also undertake corporate jobs, with Woronora Cemetery being one of the largest contracts. David previously worked in Civic Industries where he increased his skill set through various roles.
If you ask David one of the best parts about his job is the variety. Recently a blue tongue lizard came into one of the group homes when the crew were working. The picture (left) was posted on Facebook and it became one of our most popular posts – reaching more than 1,500 people.
During his long association with Civic, David has made many friends and regularly socialises with them outside of work. His long-term friend Anthony works with him on the lawn mowing crew, and sometimes Supervisor Greg will bring Roger the pug dog out with them on jobs, which always adds to the fun.
David keeps busy with lots of interests outside of work. He enjoys spending time with his family and is uncle to four nieces and nephews. David loves football and is a big fan of local team the Cronulla Sharks. He enjoys swimming and ten pin bowling regularly and is keen to play more golf. Action movies are another favourite and he often watches them with friends, twins Emily and Laura. WWE wrestling and music are other passions.
Always keen to try new things, on a short break in Port Stephens recently David got the opportunity to try his hand at sandboarding as well as feeding crocodiles.
While Down Syndrome is an important part of who David is, he is also a son, brother, uncle, friend and valued employee. We at Civic feel privileged to be part of David's full and active life, filled with family and friends.