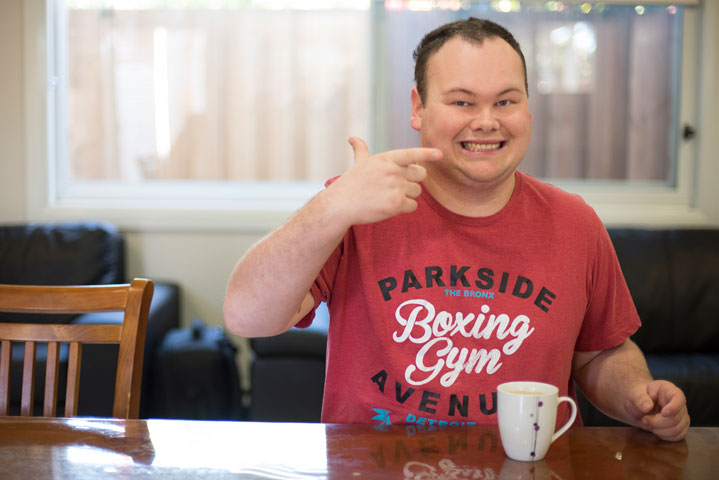 Nick's Story
When Nick entered shared living with Civic in April 2015 he only was able to communicate using six words, the most complex of which was only four-characters long.
Civic organised Makaton training for the house staff to ensure they could understand and support Nick with his communication. Every time a staff member uses a new sign, they act it out and explain it. After just a couple of months of consistently using the signs, Nick now has a vocabulary of 50 words and phrases, and this is growing by the week. His vocabulary now includes signs for the names of his housemates and staff which has helped him to build more meaningful relationships and be better understood.
Nick has also set goals around getting healthier, and has lost 9 kilos already. Staff have been providing support to Nick to prepare health conscious meals and daily walks around the neighbourhood. A big challenge has been Nick's love for fizzy soft drinks, but together with staff he had developed a 'protocol' which allows him to enjoy without overindulging. Importantly Nick is very proud of his achievements in improving his health. His efforts have made such an impression on staff at the house that they have commenced a healthy eating program themselves.
Recently Nick celebrated his 23rd birthday filled with music, balloons and good food. Staff worked to prepare a surprise for Nick by reuniting him with his parents he had not seen for some time. For everyone involved it was an incredibly special moment to share with the family. Nick beamed with pride as he took his parents on a tour of his new home and introduced them to his new friends.
The changes in Nick's life have been significant since he joined Civic – increased communication skills, a healthier lifestyle and reconnecting with his parents. These changes are evident in the way he is more confident and enjoys engaging with activities in his community. We look forward to supporting Nick with new goals in his life.