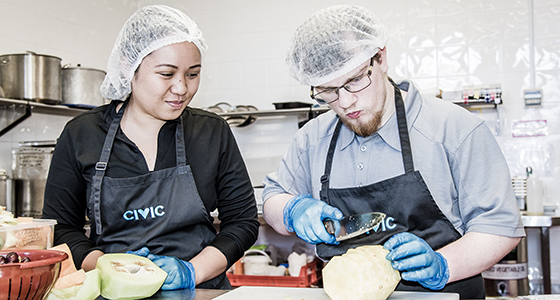 Improving employment opportunities for individuals with disability
Last week, Civic CEO, Annie Doyle, was invited by global company, Schindler Group, to share Civic's expertise and approach to inclusive workplaces, with the aim to learn how to improve employment opportunities for individuals with disability.
Schindler is one of the world's leading providers of elevators, escalators and moving walks, as well as maintenance and modernisation services. The Group has over 1,000 branch offices in more than 100 countries, with Schindler's Liz Hughes a longstanding member of the Civic Board of Directors.
Attending the presentation were international representatives from Switzerland, Paris, India, China and Australia. 
The presentation was part of The Valuable 500 is a global movement comprised of national and multinational private sector corporations, including Adobe, Deloitte and Google, all committed to putting disability inclusion on the business leadership agenda.
Schindler joined the Valuable 500 in December 2020, with a commitment to ongoing efforts to create a more inclusive working environment for all.
The panel were keen to hear all about Civic's expertise in recruiting, onboarding and sustaining employment opportunities for individuals with disability – illustrated by Civic's award winning Civic Crew model, and expanding Kitchen and Catering social enterprises. With less than 50% of Australian individuals with disability employed, Annie presented on some of the common perceived barriers to employing people with disability, and gave her insights as to how to overcome these barriers.
Annie also took the international team through some of the benefits of improving inclusivity in the workplace, what true inclusion really means, and how organisations can work together to achieve better economic participation for individuals with disability. 
Schindler has invited Civic to continue to assist and guide their organisation towards becoming a more inclusive workplace, working with a Group Executive led task force who will define strategies for hiring and on-boarding more people with disabilities. 
This is the second time in just a month that Civic have been invited to share their expertise and experience in supporting inclusive workplaces. Earlier this month, Annie was invited to present to Procter & Gamble as part of their Inclusion Day – highlighting Civic's standing in the sector as a progressive and authoritative voice.