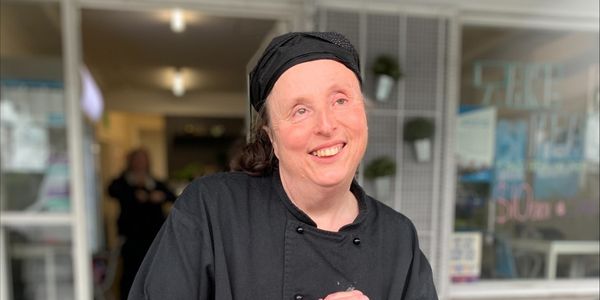 Sarah Elliot may only have three per cent vision in one eye, but that hasn't stopped her pursuing her dream to become a chef. Today, Sarah is proud of her position as the state's first blind female Chef de Partie, working at Civic's Nowra-based Kitchen & Catering social enterprise.
The road to her current role in the Civic kitchen has not been an easy one, with Sarah facing many 'brick walls' to get where she is today.
Before pursuing her culinary dreams, Sarah was employed as a community welfare officer at a local welfare organisation where she worked supporting vulnerable members of the community.
While she had never studied cooking, in 2017, Sarah was at home when she heard on ABC local radio about an introductory cookery course being offered at the local PCYC. With her interested piqued, Sarah began to enquire about enrolling in the TAFE Certificate III in Commercial Cookery – a course that prepares you for success as a cook or chef in the hospitality industry.
TAFE, Guide Dogs NSW/ACT, and a local disability support organisation supported Sarah to work towards her goal, adjusting the kitchen at the Nowra TAFE campus before she started the course, labelling stoves, ovens and food storage areas with tactile labels to support her learning.
In 2019, Sarah successfully completed her TAFE Certificate III in Commercial Cookery and set about putting her new skills and knowledge into practice.
Sarah applied for several roles, but the qualified cook experienced many knock backs, which she contributes to her age (Sarah is 51 years old) and her vision impairment – obstacles many local restaurants and cafes saw as too much of a challenge in a commercial cooking environment. In late 2019, Sarah secured an apprenticeship at a local café, where she worked for 12 months.
Starting in the Civic Kitchen in 2021, Sarah has now completed her Certificate IV and finished her apprenticeship in May, now working two days a week in the kitchen.
Food Experience Manager, Joel Grove, was excited to offer Sarah an apprentice role at Civic, who is now a third of the way through her apprenticeship and working two days a week at the café.
"Civic is committed to creating inclusive workplaces that are accessible to everyone. We don't look at a person and say, 'You can't do that', we look at them as say, 'How can we support them to achieve their goals'," says Joel.
"The team at Civic are amazing, I couldn't work with a better team – the 'Kitcheneers' is what I like to call us" says Sarah.
The kitchen equipment has been modified and Sarah often works in the kitchen with another Civic Chef, Tim who has over 30 years' industry experience. Sarah uses talking scales, but a lot of the preparation work and measuring is done by feel and Sarah boasts she has minimal cuts.  
Now having been in the Civic kitchen for over 12 months, Sarah enjoys working on a variety of tasks including preparation work, preparing catering orders and cooking and preparing orders for customers.  
"I absolutely love my role at Civic! It is an incredibly encouraging, creative, and dignified working environment and its bags of fun to boot! My favourite thing to cook is bacon and eggs and I make a delicious breakfast wrap", says Sarah.
Other menu items Sarah prepares are muffins, banana bread, tabouli, fruit compote, and Gozleme – a favourite dish Sarah and Tim regularly make together.
With big plans on the horizon, Sarah is now talking about becoming a qualified and registered trainer so she can help others archive their chef dreams.
"I can't thank Civic enough for the support and opportunities they have provided me. I count my role at Civic as both pleasure and privilege. I feel part of the team and part of the future of Civic. This is only the beginning."
Read more about Civic's supported employment opportunities and Kitchen & Catering services.