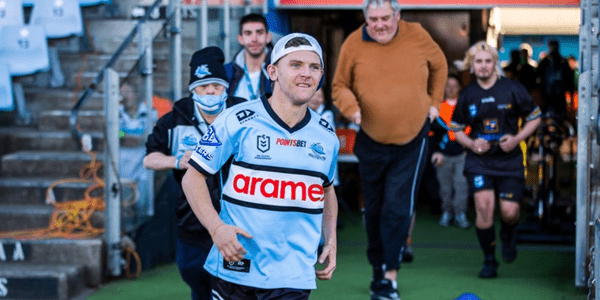 Earlier this week, Cronulla Sharks invited a group from Civic to take part in an exclusive Mega Jaws Skills Clinic at PointsBet Stadium. And what an afternoon it was. The sun shone brightly on 20 clients from across Civic, who had overcome their disappointment from the previous day, when a thunderstorm had put pay to their original session, and come along fully dressed in Sharkies gear and ready for fun.

Hosted by Sharks Have Heart, the afternoon session began with a private tour of the stadium, including time for chin-ups in the gym and a much anticipated trip to the Sharks' locker room. With images of game day matches in everyone's mind, the group excitedly sang the team song before running out of the tunnel and into the stadium.

For the next hour it was all about learning some of the skills of rugby league. The group had a blast going through the tackling, draw and pass and catching drills.

NRL official, Ben Cummins was also on hand to answer questions about what it is like to be a fulltime NRL official. Alamin, who has been working towards his goal to become a NRL referee, had a chat to Ben who was more than happy to share some referee tips and advice.

The session finished with everyone lining up to see who could kick a champion goal, with some people heading home feeling victorious having kicked a goal over the Sharks' home ground posts.
Huge thanks to our partners, Sharks Have Heart, for their ongoing support of Civic.