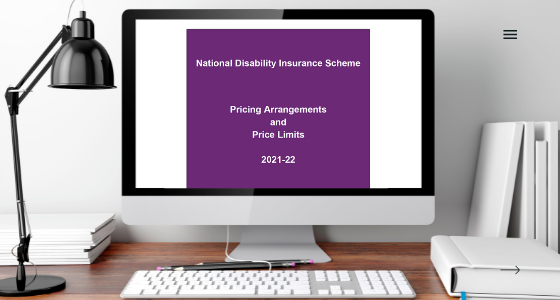 In line with the new financial year, the NDIA has published changes to the Price Guide, now referred to as the NDIS Pricing Arrangements and Price Limits for 2021-22.
What is the NDIS Price Guide / Pricing Arrangements and Price Limits?
Each financial year a new price guide is released by the NDIA, to reflect the new market cost of services.
It is designed to assist participants and disability support providers, both current and prospective, to understand the way that price controls for supports and services work in the NDIS.
Price regulation is in place to ensure that participants receive value for money in the supports that they receive.
This price guide contains information on what you may be able to claim through NDIS funding and under what category you are able to claim it.
What's changed in the 2021/22 Price Guide?
The Independent Assessment Panel concept has been removed until further notice by the NDIA.
NDIS plan duration, the preferred duration of NDIS plans is now 24 months.
Current price guide has 855 line items while the previous guide has 849 line items (removal of 6 line items)
The Independent Assessment Panel concept has been removed until further notice by the NDIA.
Let's take a look at the pricing updates – effective from 1st July 2021
Disability Support Worker Cost Model
Prices dependent on the Disability Support Worker Cost Model and have increased by 2.95% to accommodate for the increase in Super Guarantee percentage and the Fair Work Commission increase in the minimum wage. This includes:
Assistance with self-care activities and establishment fees
Self-management capacity building
Assistance in SIL
Assistance to access community, social and recreational activities, including group supports and establishment fees
Supports in employment
Psychosocial Recovery Coaching
Tenancy support
Life transition planning
Individual skills development
Transition through school and to further education
Capacity building by a Plan Manager
Training for carers/parents
Supports related to bricks and mortar have also been increased by 1.1%. This includes:
Specialist Disability Accommodation (SDA)
Medium Term Accommodation (MTA)
Centre Capital Cost
The price for Short Term Accommodation (STA) and Assistance sits across both of the categories above so has increased by somewhere between 2 and 3%, depending on the day/time. No other prices have been increased and there's no changes to the way prices are structured.
Temporary Transformation Payments
The Temporary Transformation Payment (TTP) loading has been reduced by 1.5%, from 6% to 4.5%, as planned. This will be reduced by 1.5% each year until its eliminated meaning that in the next 3 years (1.5% x3 =4.5%)
Group-based Supports
In response to sector feedback and the impact of COVID-19, the transitional pricing arrangements for group-based supports have been extended until 30 June 2022.
Things to remember
Funds in existing participant plans will not be adjusted on July 1 for the changes in price limits.
Not all plans have been indexed, if the case is the funding in the Service Booking has not been indexed providers are advised to increase the booking themselves. The increase is to be made proportional to the line item the booking has been made with.
The NDIA are not going to increase participant budgets to accommodate these price increases. According to the NDIA, most participants will be able to continue to purchase the supports they need from their existing plan funds and will not be impacted by changes to price limits.
The NDIS has a proposal put in place to monitor plan utilisation and identify participants who are likely to utilise their entire funded supports before their plan end date.
Temporary COVID measures have been updated with the rapidly changing situation around the country. You can read those in the Addendum.
For more information visit NDIS 2021-2022 Pricing Arrangements and Price Limits
How Civic can help you
Connect with our Customer Experience Team and let them know what  support services  you are interested in. The team can assist you to understand your plan, and provide you with further information. Alternatively, learn more about our disability support services online. We can then assist you to engage with the relevant Civic service, prepare a quote, and get your supports started.
Get in touch with us today and our Customer Experience Team on enquiries@civic.org.au or call us on 1300 692 484