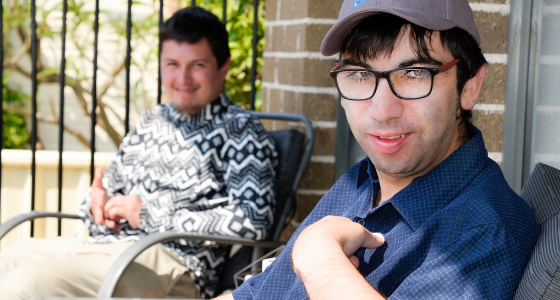 In accordance with the latest public health orders, many disability service organisations have had to temporarily suspend their community access and day programs, reducing opportunities for social connections.
Civic has worked quickly to ensure we can continue to provide support to individuals who require support during this time.
Civic's individual support services are provided by our qualified and trained staff. Take a look at the range of support services available.
Individual Disability Support
Do you need drop-in support and assistance for day-to-day personal activities? Our experienced support staff use a person-centered approach to understand your personal needs and to work at your own pace.
Talk to us about
Assistance at mealtimes, feeding, eating and drinking
Personal hygiene and bathroom assistance
Home care and dressing
Attending medical appointments
Participating in community services
Mobility and transferring
Assistance with budgeting
Weight management including personal training
Use of aids and appliances
Other day-to-day tasks
Clinical Services
Our dedicated, in-house Clinical Services Team are committed to providing comprehensive clinical services – ranging from, speech and communication reviews, nursing, behavioural, counselling and psychological support.
Talk to us about:
Speech pathology/therapy – including speech, language and swallowing assessment and therapy.
Nursing – assisting patients with their personal care needs and reviews. Nursing care planning begins when the client and is continuously updated throughout in response to client's changes in condition and evaluation of goal achievement. Planning and delivering individualized or patient-centered care is the basis for excellence for the nursing supports Civic aims provide.
Psychology – including counselling and understanding how people think, feel, behave and learn.
Behaviour support – creating individualised strategies for people with disability that are responsive to the person's needs, in a way that reduces the occurrence and impact of behaviours of concern and minimises the use of restrictive practices.
We currently provide Drop-in Support services in South East Sydney, South West Sydney, Blue Mountains, Illawarra, and surrounding areas as well as other locations on request.
Connect with Civic today and we will help you identify and access the support you need.
Civic has implemented Covid-19 safety protocols, delivering a covid-safe service – all essential workers are required to carry a current negative Covid tests and wear personal protective equipment.
Start a Conversation
Get in touch with us today and our Customer Experience Team will help you with your enquiry. You can also email us on enquiries@civic.org.au or call us on 1300 692 484