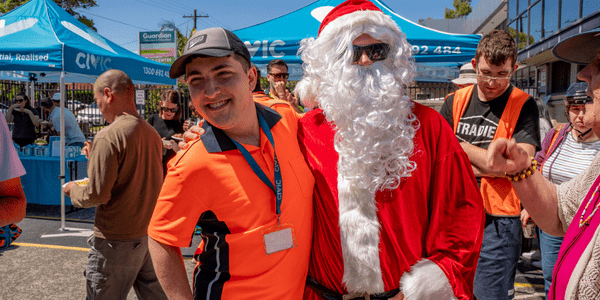 Tis the season to get together and celebrate with our community.
Last week, Civic hosted a very festive morning tea with clients and staff from head office, Industries, New Era and Liverpool Hubs as well as from our home and living services coming together for a wonderful celebration of the past year.
It was a fantastic morning full of fun, laughter, dancing, singing and of course a delicious array of treats provided by our talented chefs and staff at Civic Kitchen and Catering.
Jordan Kenny, an Employee Support Worker from Civic Industries, shared his outstanding musical talent with everyone, getting the crowd up and dancing to everyone's favourite hits and Christmas carols.
Santa even took time out of his busy schedule for a special visit. Arriving in style on a fire truck and escorted by Miranda Fire Brigade, Santa greeted everyone, posed for Santa photos, and of course boogied along with the crowd on the dance floor.
We take this opportunity to wish everyone a safe and happy holiday season.
Special thanks to everyone who was involved in this event.