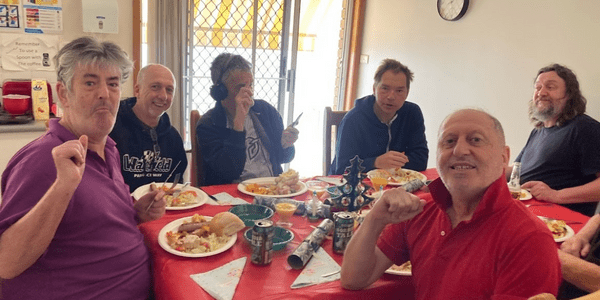 For most people, when they think about Christmas, they often think about taking time off work, going on summer holidays, or taking the time they need to recharge. However, for people in the disability sector and for disability support workers, Christmas can look different.
"Civic's Home & Living team continue to provide support services throughout the whole year – including the Christmas period" says Annie Doyle, Chief Executive Officer.
Civic currently supports over 270 individuals, helping them live independently in their home. On Christmas day some people will visit family and friends for the day, but others celebrate with their Civic family.
"Civic's support worker team is committed to putting clients first. This is particularly evident during the Christmas period when the team's passion and dedication shines as they work together", says Annie.
Operations Manager Annette Connolly enjoys working over Christmas and loves how special the time is with clients and her colleagues.
"I always volunteer to work over the Christmas period, everyone is in great spirits and really work together to make the holiday a special occasion for all," says Annette.
Annette also shared how proud she is of her staff who each year rearrange their personal plans to support clients during Christmas.
"It's not only about Christmas Day as well, but the staff also start their preparations early on to make sure the big day is lots of fun."
"Support workers really do an amazing job. From decorating the homes, organising visits, buying each client their Christmas presents, to getting them ready to visit family and taking them to see their family and celebrating at home as well, it certainly is a busy time of the year, but the support workers go above and beyond to make it magical for everyone," says Annette.