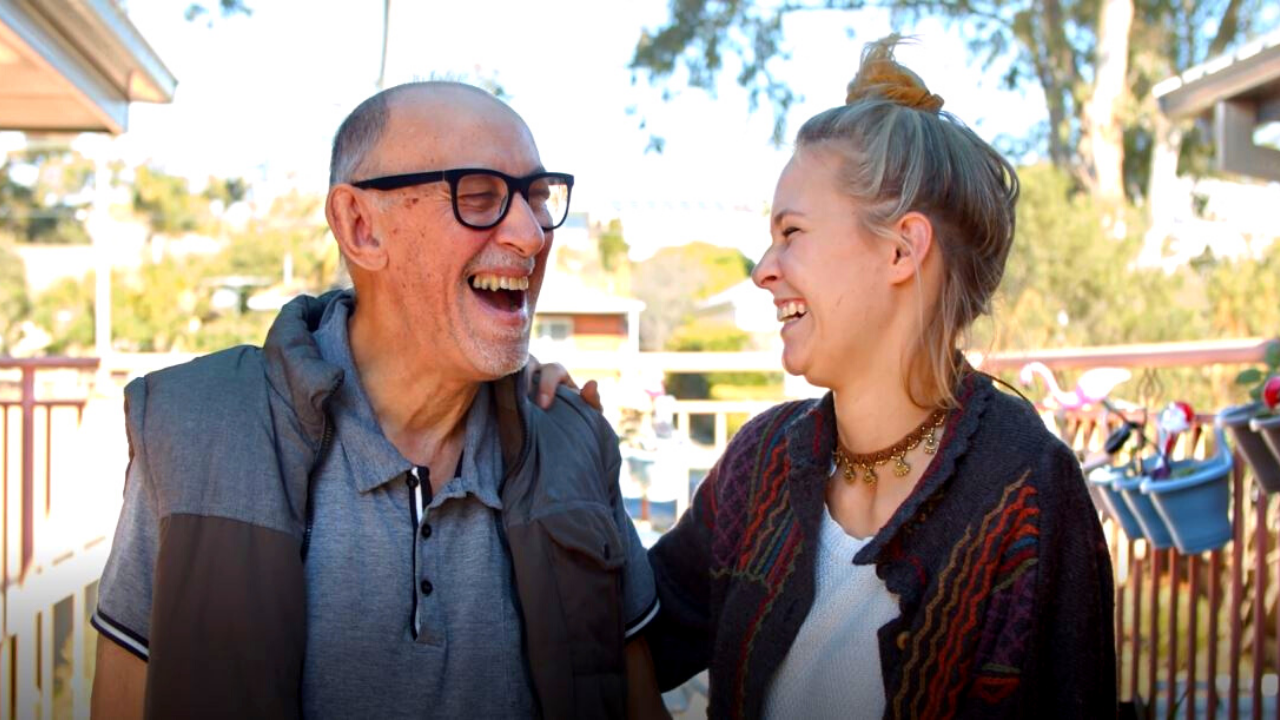 Support Workers have a unique opportunity to play a pivotal role in the lives of individuals with disability. Their ability to build genuine, high-quality relationships is key in nurturing independence, wellbeing and social connection for those they support.
WHAT MAKES A GOOD SUPPORT WORKER?
WATCH: In this short film, we spoke to individuals with disability to find out – what makes a good support worker?
MASTER COMMUNICATORS & CONNECTORS
Sometimes referred to as 'carers,' the role of a Support Worker is often misunderstood. "What people might not know, is that some of the most effective Support Workers are master communicators and connectors. Their potential to facilitate other relationships, find common ground, or create it, is vital given that many people with cognitive disability experience loneliness and social isolation at higher rates than their non-disabled peers," says Bronwyn, Operations Manager at Civic.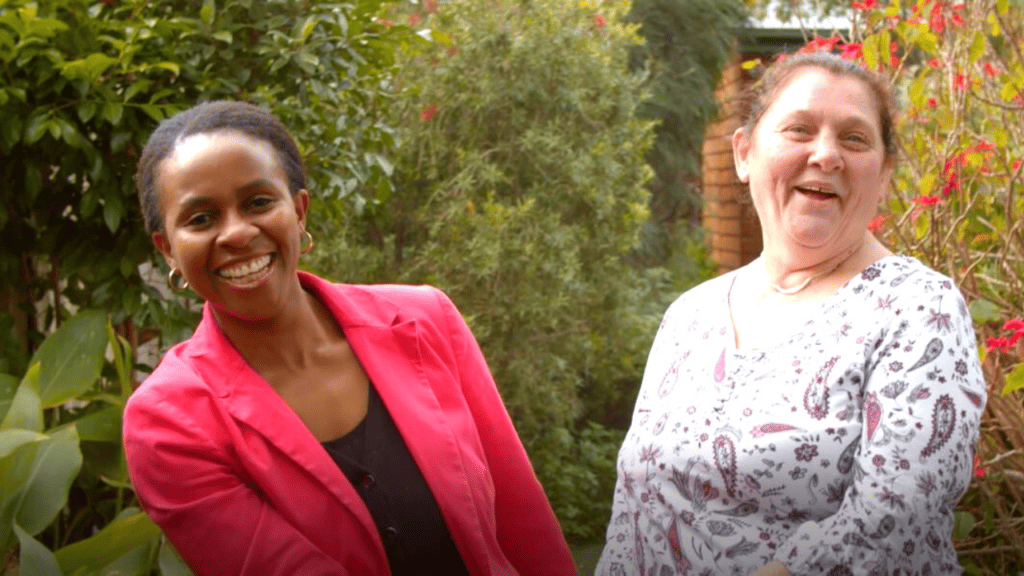 "The term 'carer' suggests someone who assists with personal care; feeding, bathing or dressing. Support Workers offer so much more; making a real difference to the lives of those they support, helping to breaking down barriers of ableism and stigma in society, and allowing individuals to feel empowered, independent and included in the community."
HEARTWARMING STORIES
When asked what makes a good support worker, Bronwyn says that having a genuine interest in others is key. "It's really difficult to pin down any specific personality traits or characteristics, because everyone's needs are different. I have often had people say to me, 'Oh, I wouldn't be good in the role of support worker, because I am not nurturing, or caring enough,' and that's realty not what it's about.
"In my time at Civic, I have seen so many heart-warming stories, where, through their Support Worker, individuals with disability have found new hobbies or interests, or someone to share an existing passion with.
"That really comes from taking the time to get to know the individuals you are spending time with, listening – really listening, remembering things, noticing and supporting achievements. Asking, rather than making assumptions. And, finally being able to step back and allow a person to do things for themselves and be independent. That's what makes some feel valued and respected."
RELATIONSHIPS THAT FLOURISH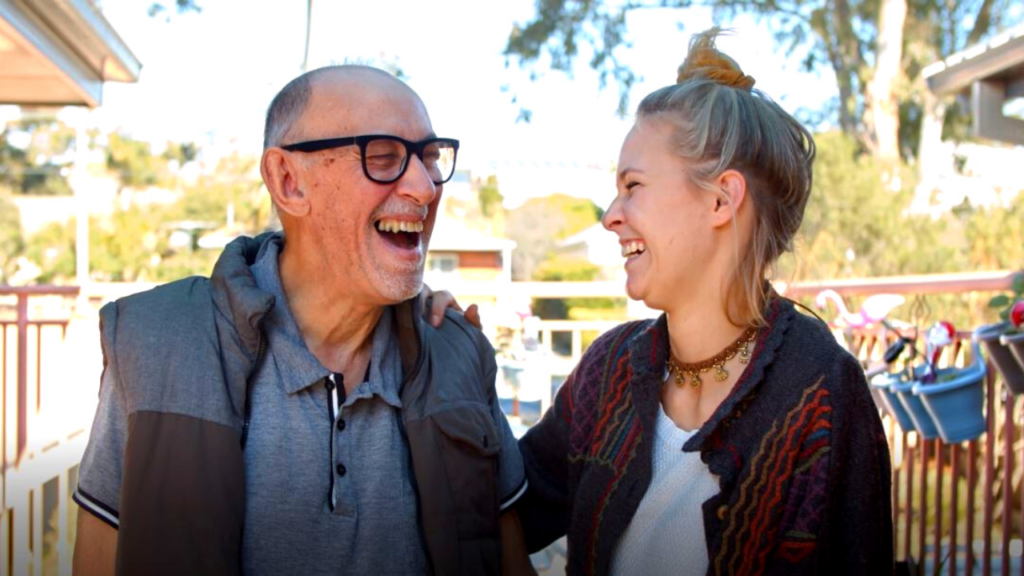 Civic support worker, Jaimee, is in her early twenties and works with Michael, who is in his sixties. The pair have built an unlikely friendship, based on common hobbies and interests including reading and yoga.
"Michael and I genuinely enjoy each other's company and spending time together, and I think that's really important. People might not expect that we would get along so well, but I try to keep open mind, and be ready to ask questions," said Jaimee who has been a support worker at Civic for just over three years.
"Over time, we've built a mutual respect, and that comes from not making assumptions that we won't appreciate or understand certain music, books or other hobbies.
"We both now know that the best way to support Michael achieve his goals, is when we come at things on an equal footing and work as a team together. It's been wonderful to see how Michael's confidence, self-esteem and self-respect has flourished in the time I have known him."
Support Worker, Roy, worked for many years as a long-distance truck driver, before joining Civic. He readily admits that, at the time, it really was just another job to him, an income. But, as a people person, who loves, as he says, 'a good old yarn', he built strong relationships with the individuals he works with. Client, Sharon describes him as, 'like a brother to me!'
FOUR WAYS TO BE A GOOD SUPPORT WORKER
We've heard how a good support worker can enrich and enhance the life of individuals with disability through the care and support that they deliver. They will always see the person in front of them, actively listen to the needs and preferences, and respect their right to make their own decisions and live their life their way. If you are thinking about pursuing a career in support work, here are four key points to consider:
Don't make assumptions about a person's ability
A support worker must never assume a person can't do something, or do something for the person, thinking it will 'just be easier' that way. Ask questions. You will learn that each person will like to be supported in their own way.

The support worker must be able to step back to allow the person they support to be independent.
Sometimes, without realising it, a support person can be a barrier to inclusion. They might feel like they aren't doing their job if they stand back and let the person communicate and interact directly in the community…but that's really the aim!

Encourage people in the community to speak to the person you support directly.
As well as stepping back, you can direct people in the community to communicate directly with the person you support, especially if they have communication difficulties. By doing this, you educate people in the community of equal opportunity and rights.

Think outside the box
Essentially your role as a support worker is to enable that person to achieve their goal. It means to do things that other people think they can't do (sometimes yourself included). It's important to therefore think outside the box. Have an open mind! A positive can-do attitude goes a long way. Whether it's supporting a person to ride in a hot air balloon, to join a new club, or even independently order their own food at a restaurant, focus on the goal and work on the barrier. Your role is to support that person to do what they want and make it happen. Perhaps it's not something you can do all at once – and that's ok. It all can be part of an exciting journey!