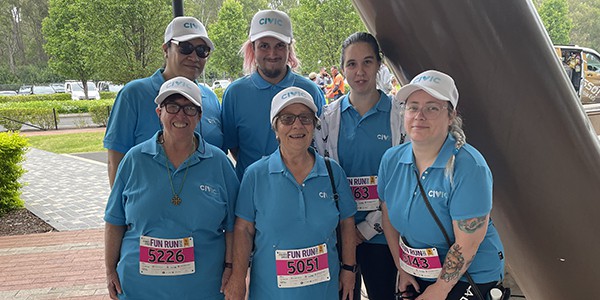 Last weekend, on Sunday 13th November, a group of Civic Champions took part in the Fisher's Ghost Fun Run.
This was the first time a group of clients and staff entered a Civic Champions' team in the popular fun run, which is now in its 66th year.
Donna Connolly, a support worker at Civic, organised the team and was thrilled to have staff and clients from across Civic participating together. 
The Civic team took part in the 5km course, which weaved around the Western Sydney University and TAFE NSW Campbelltown campuses, with scenic views of the city and surrounding hills.
First to cross the line was AJ, with a fantastic time of under 55 minutes! Close behind AJ were Corrine and Katy who crossed the line together, followed by Joy, Palepa and Donna with a time of just over one hour. 
Congratulations to everyone who took part and for supporting each other to cross the line with a big Civic Champion smile!
It is fantastic to see our Civic community and team of Champions continuously taking part in events helping to promote inclusion and accessibility for all abilities.