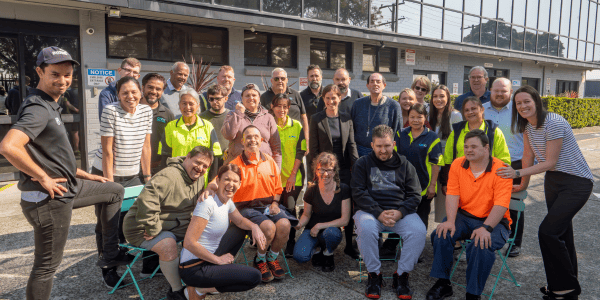 Civic Disability Services is proud to announce that it has been recognised as an Employer of Choice in The Australian Business Awards 2023.
The Australian Business Award for Employer of Choice [EOC] recognises organisations that develop workplaces that maximise the full potential of their workforce through established policies and practices which demonstrate effective employee recruitment, engagement and retention.
"We are thrilled and honoured to receive the 'Employer of Choice' designation," said Civic CEO Annie Doyle. "Employees are at the heart of Civic's success, and we remain dedicated to fostering a workplace where they can thrive. This recognition underscores the unwavering commitment to our employees and the continuous effort to enhance their work experience. We recognise all employees for wholeheartedly embracing and advancing the shared mission and values of exploring, connecting, learning and belonging."
Key factors contributing to Civic's selection as an 'Employer of Choice include:
Civic's impressive permanent workforce of 75.5% outstrips the industry average and reflects the work that has been done to build a progressive organisation making contributions to the sector.
The values of exploring, connecting, learning and belonging are woven through governance and leadership processes at all levels to define the culture and working environment where they live. The vision and mission are designed to belong to employees as much as to the clients served. This embeds the belief that employees are critical to achieving impact for clients. This sense of connection is reflected in employee engagement results that show more than 85% of employees understand how their work contributes to organisational success.
Reward, recognition, and ongoing development opportunities supplement market competitive remuneration structures. A culture of "if in doubt, shout it out" is led from the top, with systems and processes designed to keep people safe.
For more information about Civic and its award-winning workplace culture, please visit our careers page.
September 2023