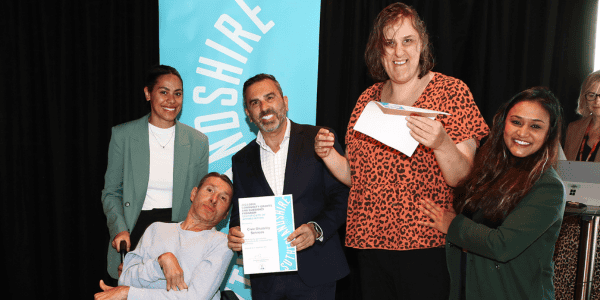 Last week, Civic was awarded two Community Grants by Sutherland Shire Mayor Carmelo Pesce. The ceremony was held at the newly opened Pavilion Performing Arts Centre in Sutherland. Civic clients, Michael and Angie joined Civic staff in collecting the awards for the re-establishment of the Sutherland Special Needs Toy Library and the development of a Sensory Room at our Sutherland Community Hub.
Civic aims to re-establish and grow the Sutherland Shire Toy Library to provide a much-needed service to the local community. The toy library has been in operation for over 15 years, providing over 2000 specialised and educational toys and resources for families with children living with a disability and/or their therapists. A lot of the toys and resources in the library need to be replaced with modern therapy, educational and sensory toys that families would like to borrow.
Civic's Sensory Room upgrade will provide adults with disabilities access to a sensory and activity space at Civic's Sutherland Community Hub. This grant will enable the Hub, located in the Masonic Hall at Sutherland, to upgrade the existing space and fit it with specialist interactive technology designed specifically for adults with disabilities.
The Sutherland Shire Community Grants and Subsidies Program provides financial support to local not-for-profit organisations that contribute to a connected, supportive, caring, inclusive and engaged community. This year, the council received 71 applications, awarding grants to 48 local organisations whose programs and community services enrich the lives of residents and improve community awareness and connections.
September 2023