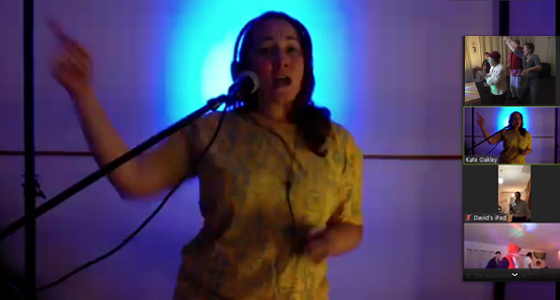 Following the announcement of stay-at-home order in June, many of Civic's programs of supports, services and accommodation were impacted.
Civic quickly responded to relaunch the Civic@Home program – designed to promote health, well-being and connection during social isolation.
Civic@Home is based around a timetable of live classes, that staff and clients can take part in throughout the week, including art classes, fitness sessions, music groups and afternoon discos.
In particular, the Saturday afternoon online disco 'Everybody Dance Now' has been enormously popular. While everyone is physically distanced, these discos allow participants to have fun, dance and let their hair down – in a Covid-safe manner.
Civic made the decision to open this event and invite other disability organisations and their clients to join in on the fun with them – with many registering to join Civic on the dancefloor.
"I wanted to say thank you and let you know that Anthony thoroughly enjoyed the disco last week and looks forward to attending the second session tomorrow! It's such a great activity to help participants remain engaged with others so thank you again for arranging this wonderful activity. "
By working with a range of partners, who helped design and deliver the program last year, Civic was able to quickly mobilise the program, and the response has been great.
We take this opportunity to thank the Civic@Home partners, Dom Hindmarsh, Clarity Health and Wellbeing and Da Capo Music Therapy, who continue to lend their skills and time to the project, partnering with Civic to develop content and deliver live classes to clients through Zoom.
Civic@Home also incorporates a library of videos that can be accessed at any time, including at home fitness workouts and tutorials that are designed to improve skills, as well as calming breathing and meditation exercises.
Click here to view any of the Civic@Home on demand videos.

View the Civic@Home class timetable. You can request access to each class by completing the online form, or by calling 1300 692 484