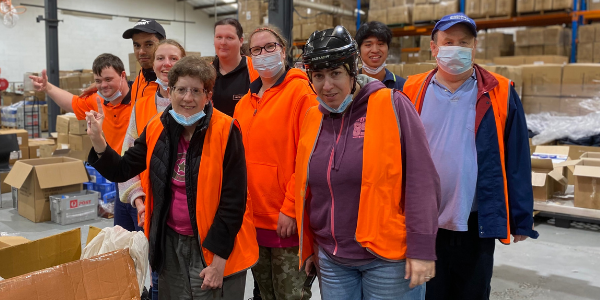 In the past three years, over 300,000 new parents have received a Baby Bundle – a gift of a handy shoulder-bag filled with essential baby items.
NSW Premier, Dominic Perrottet, and Health Minister, Brad Hazzard, announced the milestone on Mothers' Day, taking the opportunity to present Baby Bundles to new parents at Westmead Hospital's Maternity Unit.
The Baby Bundle is a NSW Government initiative, which is itself part of a larger $157 million NSW Government package.
In 2018, Civic Disability Services won the contract to deliver the Baby Bundles to hospitals and new parents throughout NSW. Since then, a team of supported employees have packed and distributed more than 300,000 Baby Bundles to new parents.
Each Baby Bundle is filled with baby products valued at $300, as well as a selection of information to support the new baby's health, development and wellbeing. New Mums and Dads receive a sleeping bag, play and change mats, a muslin wrap, bath thermometer, baby toothbrush, breast pads, first aid kit, Australian children's books, wash cloth, baby wipes, hand sanitiser and barrier cream, along with printed resources from NSW Health.
Civic's team of supported employees work on all aspects of the Baby Bundle's fulfilment, from packing the items for each bag to overseeing delivery to hospitals.
"I love working on the baby bundle," says Barbara, who has worked on the Baby Bundle contract for the past few years. "I have even been able to visit the hospitals to help hand out the bag to new mums which was lots of fun."
Civic's social enterprise is designed to offer a wide range of employment opportunities to those with disability, supporting NDIS participants to access learning opportunities, develop new skills and progress their careers, often into open employment.
"Not only does the baby bundle support the wellbeing of new parents and babies, but it also provides meaningful employment for people with disabilities in an inclusive workplace," says General Manager of Civic Industries, Peter Moore.
Currently, the labour force participation rate for people of working age with disability is 53% – compared to 84% of people without disability. 
"We're delighted that, in partnering with organisations such as NSW Government, we have been able to expand our impact over the past few years, increasing our workforce and offering secure employment and therefore better financial outcomes for people with disabilities in our local community," says Peter.
Congratulations to the Civic Industries' team for this outstanding achievement.