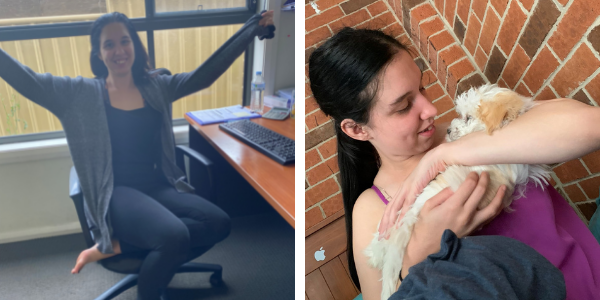 "I can't wait to start studying and hopefully get a job one day working with animals"
Passion and determination are two powerful things. Add in a caring and committed support worker and you have a winning combination. Meet Katy, a 24-year-old whose dream is to work with animals – specifically pet grooming as she loves caring for animals.
Thanks to her hard work and dedication, last month Katy received wonderful news – she has been accepted to study Certificate III in Pet Grooming at TAFE.
"I can't wait to start studying and hopefully get a job one day working with animals," says Katy.
Katy is rightfully proud of her achievement, especially because the journey has not been an easy one.
Over the past year, Katy and her support worker, Sabrina, have been working together to turn Katy's dream into a reality.
Of course, no dream can be realised without a clear vision. With a goal to seek employment, Sabrina worked with Katy to uncover what kind of employment would best suit her passions and skills. She was then able to support Katy in establishing a plan that would help her work towards her goal, with milestones including community participation, work experience, pet grooming qualifications and finally, employment.
Katy kicked off her plan by establishing a daily routine, attending Civic's Liverpool Hub. "This step was important to ensure Katy got used to following a daily routine, arriving at the hub at the same time each day which is an important skill for when you're studying or working," explains Sabrina.
Once Katy was comfortable with her daily routine it was time to start the application process to enrol in a course. But to apply for Certificate III in Pet Grooming at TAFE, Katy would need to complete work experience – something that became a major hurdle.
Statistically, people with disabilities face far greater challenges in securing employment than those without disability. Unfortunately, this includes people seeking unpaid work experience. Currently, the labour force participation rate for people of working age with disability is 53% – compared to 84% of people without disability. 
Katy fought against these statistics for more than six months, struggling to find an organisation that would support her work experience placement.
But Katy didn't lose hope and remained determined. She and Sabrina continued to contact businesses and, after what felt like many doors being closed in their faces, they received fantastic news.
Bow Wow Dog Grooming, a local business, said they would love to have Katy join their team – providing workplace training to help her achieve her career goals in pet grooming.
Thanks to the placement, Katy has been able to complete her application to study and will start her studies and work experience in July. After just nine months, Katy will have her qualifications and be able to continue towards her dream of obtaining employment.
"It feels really good to be able to do my course now because I've found work experience," says Katy.
When asked about Katy's achievements so far, her support worker Sabrina couldn't be prouder.
"Although I helped Katy by finding out what her goals were and help her achieve them, it all comes down to Katy's willingness, drive to succeed and never giving up hope for dreams!"
"Well done, Katy, I am so proud of you!"