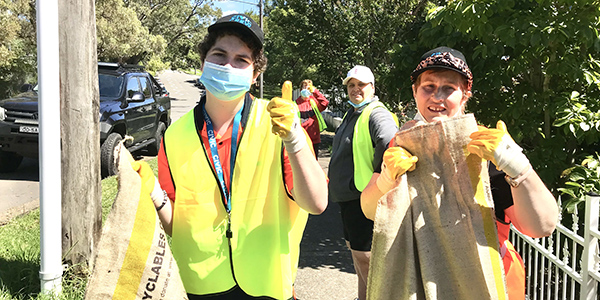 Civic Disability Services Stepped Up to Clean Up Together on Friday 11th March for their Clean Up Australia Day.

After having to postpone by a week due to the recent heavy rainfall, everyone in the group was keen to hit the streets, ready to help make the area cleaner and safer for the community.

Like every year, the team from Industries was keen to do their part to help clean up the streets.

"The team is passionate about caring for the environment and volunteering with the community," said Peter Moore, General Manager Industries.

Armed with their good attitudes and clean up supplies, the team started their clean up mission from Civic Head Office at Cawarra Rd Caringbah and worked their way around the streets.

Cherish-Rose Tangohau, Employee Support Worker, who helped coordinate the event alongside Jo Parker, said the team worked together to remove single-use plastic, cigarette butts, food wrappers and paper from the local streets.

"Everyone had so much fun! It was a very successful morning, we had over 25 participants who did an amazing job cleaning up along the roadside, " said Cherish.

This is the third time Civic has participated in the Clean Up Australia Day event and it certainly won't be the last.
Civic supported employee, Andrew Beck, who participated in cleaning up the local streets with his workmates shared how much he enjoyed helping to clean up.

"I had lots of fun cleaning up rubbish in the community and would like to do it again," said Andrew.

This year the Clean Up initiative was put in place following a recent focus group with Civic staff and clients. During the focus group several Civic clients shared that improving the appearance of our community is important to them.

"The Civic community is committed to making a difference to our environment. We have a dedicated volunteer group "the Green Warriors" who meet regularly to discuss opportunities for Civic to uphold is responsibility to UN's Sustainable Development Goals" said Lizzy Fowler, Civic Disability Services, General Manager Brand Experience.