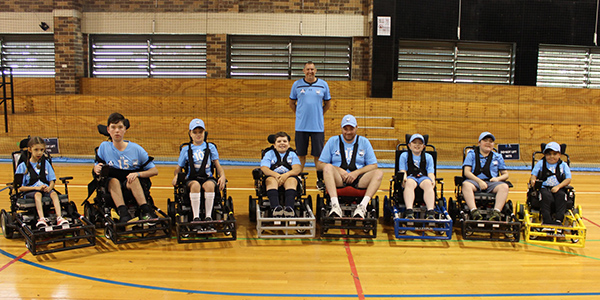 When it comes to sports, Cameron Moody has played them all his life.
Tackling everything from athletics, baseball and swimming to wheelchair rugby and, more recently, powerchair football, Cameron Moody is now looking forward to the next step in his sporting career – playing for Sydney FC Powerchair Team in the National Powerchair Football Championships.
"Sport has always been a big part of my life and my family has always been active, even when I was little," says Cameron, who credits his family with his love and ability for sport.
"Mum got my brother, Byron, and I into sport when we were young to be healthy and active. It helped with our disability and was an easy way for us to get moving."
And when the boys were not playing sport, they were watching it. Both brothers are big St George Dragons fans and have both played rugby league over the years.
For the last two years, Cameron has stepped up his fitness and sporting regime, enrolling in a new outdoor personal training program, and returning to playing wheelchair rugby league.
"It's fantastic to be back in the chair playing rugby. It's an exhausting game full of tackles but I love every second," says Cameron, who plays for Cronulla Sharks in the 2022 NSW Wheelchair Rugby League Competition.
If wheelchair rugby wasn't enough, this year Cameron also got the call to play for Sydney FC Powerchair Team.
Powerchair Football is a competitive sport designed specifically for wheelchair users. Combining the skill of the wheelchair user with the speed and power of the chair itself, it can be an extremely challenging game.
The game is played in an indoor gym on a standard basketball court, with by two teams of four power chair users, who attack, defend and spin-kick a 33cm soccer ball to score goals.
With games of wheelchair rugby and powerchair dominating his weekends, it's no surprise that Cameron was picked to join Sydney FC National Powerchair Football Championships team.
Cameron will take part in the week-long tournament starting on the 28th of April.
Congratulations Cameron, we look forward to cheering you on.