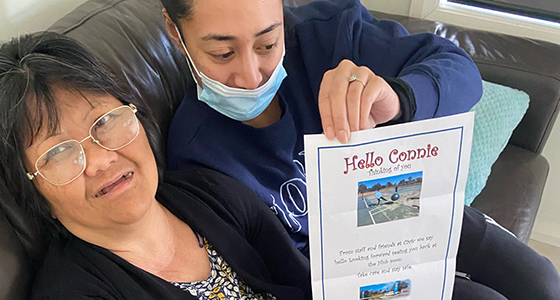 As the current outbreak of COVID-19 escalated through August, thousands of NDIS participants were impacted by the temporary suspension of day programs, with many South West Sydney clients unable to attend Civic's Memorial Hub.
Not to let restrictions stand in the way of creating wonderful experiences for their clients, the Memorial Hub has kept in regular contact with those unable to attend.
Last week the Memorial Hub team sent out "Thinking of You" letters to those unable to attend.   Forty-one letters were sent out, each one personally addressed and featuring a photo of each client enjoying one of the many activities the Hub provides. 
Following the delivery of the letters the team has been inundated with calls of thanks – with everyone saying that they can't wait for the Hub to reopen. 
"Civic is my family, I cannot wait till you open again – I miss everyone so much"
"I have so much ideas for our tools project. I wish you were open now."
"I cannot wait till I see everyone at the Hub. Please send my love to everyone."
"Every day, he talks about returning back to the Hub – working with the maintenance crew"
"My son misses the Hub so much, always asking, when can I go back to the Hub, I miss being there "
Well done to the Memorial Hub team for creating moments of connections, and a true sense of belonging for everyone. We can't wait for you all to be reunited and back at the Hub.
Learn more about the Liverpool Memorial Hub and other Civic Hubs here.
Due to the current COVID-19 pandemic, Civic is taking specific action to maintain client and staff safety. We have temporarily suspended visits to our community hubs and have made classes available with our online hub, Civic@Home, which provides online learning and other activities, as well as live events, gatherings and lessons, to encourage and promote health, wellbeing and connection during social isolation.