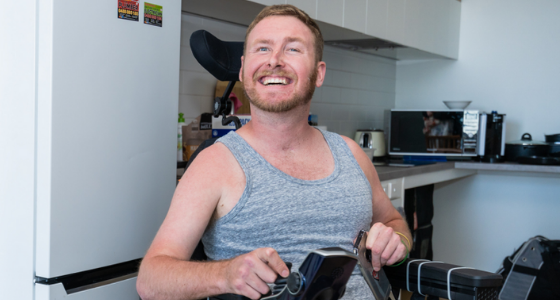 Earlier this year, the National Disability Insurance Agency (NDIA) released their much-anticipated consultation paper, An Ordinary Life at Home. The paper outlines the NDIA's vision for the future of home and living services for those with disability and is set to guide the updated Home and Living Policy, which is expected to come into effect in the next 12 months.
As part of the NDIA's consultation process, feedback and comments on the Paper were invited from participants, families, carers and disability service providers like Civic.
Supporting in excess of 260 clients across our home and living services, Civic believe it is critical to not only provide feedback on the development of the proposed Home and Living Policy from a service provider point of view, but also to support our clients to review and provide their own feedback on the policy.
Through July and August, stakeholders from across the organisation took part in the consultation. Civic was an active participant in several workshops hosted by the NDIA as well as separate discussion events hosted by National Disability Services (NDS). Civic's service delivery team were also able to draw on the resources published by the NDIA, including Easy Read documentation, to support home and living clients in understanding and commenting on the Paper. A number of individual submissions were made by clients using the NDIA's online feedback form.
Civic's own response has also been submitted to the NDIA and is available for everyone to review.
Critically, Civic supports the overall vision of the paper, for people with disability to live ordinary lives in ordinary homes and to be included in the community. This vision is something each of us strive towards through our work every day.
The Paper also outlines improvements to the Planning process, that will streamline funding decisions and, we believe, lead to faster and more transparent outcomes for those we support.
A commitment to changing the way in which the sector refers to individuals' homes is also a welcome decision – reflecting the fact that housing should be referred to as a person's home first, rather than a place of work.
Civic also applauds the proposal to extend the concept of 'Exploration and Design' to all individuals looking for housing options. Taking the time to explore what a sustainable housing option looks like for each person will ensure providers and clients work together towards a truly individual outcome – something we know everyone at Civic supports.
As with any consultation, the paper raises some questions, which Civic has highlighted in our response.
The paper's focus on a more flexible approach to home and living may not work for all those in need of supports, many of whom, in our experience, prefer and thrive in a more stable and secure environment. Indeed, there is a distinct focus throughout the paper on the younger cohort, with each case study focusing on individuals under the age of 30 and seemingly little focus on those who might be aging.
The paper also adopts a negative tone towards some of the housing options currently offered to individuals with disability, specifically group homes supporting five or more individuals. As we know, many of these environments achieve outstanding outcomes each and every day. In moving forwards with the Home and Living Policy, Civic encourages the NDIA to acknowledge that many individuals are happy in their existing home environment and are supported to achieve outcomes that are important to them.
Civic congratulates the NDIA in conducting this consultation and welcomes the opportunity to provide the NDIA with feedback. We hope that this Paper is an indication of the NDIA's intention to consult more broadly with providers as well as participants, to ensure decisions are made collaboratively, and to ensure that, when making decisions, repercussions are understood and accepted by all.
You can read Civic's full 'An Ordinary Life at Home' Submission to the National Disability Insurance Agency here.