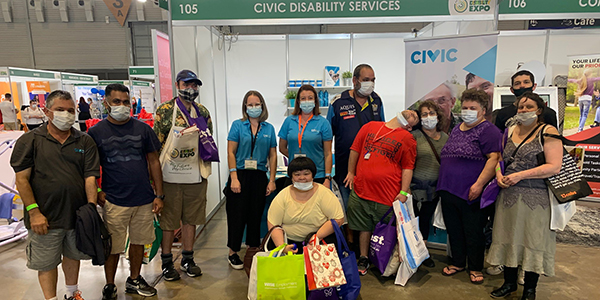 The Sydney Disability Expo was held over two days last week. It was wonderful to back amongst the buzz of a major event, connecting with the expo attendees, disability community and service providers.

Over 150 exhibiting service providers were on hand to answer questions and share updates on their available services, including members of Civic's Customer Experience Team – thank you to Olivia, Angela, Jessica and Mark.

Amongst the crowd across both days were members of our Civic community, Mauricio, Deb and Ertug and a group from the Memorial Hub stopped by to say hi to the Civic team, as well as some of the team from Industries.

A highlight feature of the expo was the presentations and performances on the main stage. Hosted by Mel Harrison the scheduled featured speakers from NDIA, service providers, individuals with disability sharing their stories, Paralympian Ellie Cole and more. Civic was also part of the presentations with Mark Saweriss taking to the stage on Saturday, sharing insights and Civic's experience in creating inclusive workplaces.

Thank you to everyone once again for being part of the expo – helping to share Civic's services, connect with the community and explore new ideas.