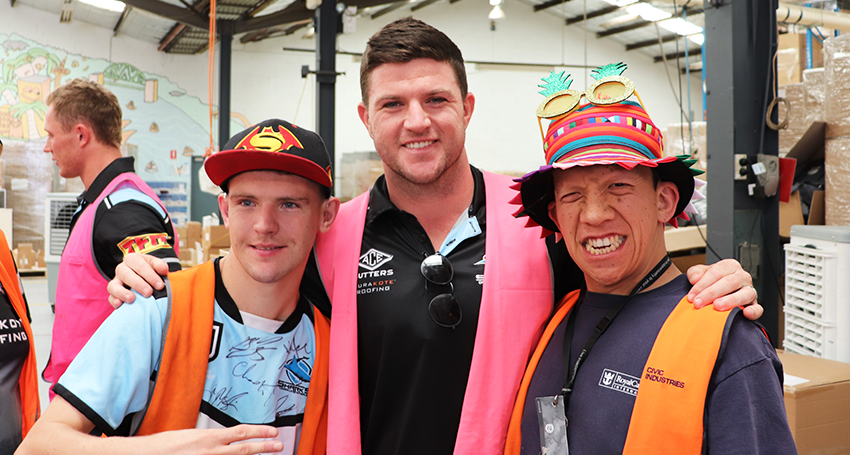 Community connections are well and truly alive in the Shire as players from the Cronulla Sharks spent valuable time volunteering at local organisation, Civic Disability Services, earlier today.
As part of their end of year Christmas Blitz, players worked alongside Civic's supported employees, many of whom are long-term fans of the football club. In the busy lead up to Christmas, players had the opportunity to help on several projects, including contracts for NSW Health, whilst building new connections with local residents with disabilities.
"Volunteering at Civic is designed to be meaningful, helpful and valued. It's a great way for organisations to show their corporate social responsibility and provide their employees with the opportunity to contribute to the community, but it's also about normalising disability, and breaking down barriers in our community," says Peter Moore, GM Civic Industries.
"The Sharks are excited to once again support Civic Disabilities as part of our annual Christmas Blitz. Many of the Civic Disability Services clients are huge Rugby League fanatics, most supporting the Sharks. Our club is very appreciative of the support we receive from Civic throughout the year, so it is our turn to pay a visit on their site and spread some Christmas joy", says George Nour, GM Sharks Have Heart.
More than 150 employees with disability work on site at Civic Industries, with other employees working in the community through Civic's Kitchen and Catering and Crew social enterprises. Civic also provides accommodation and social day programs to more than 700 people living with disability. Volunteer opportunities at Civic range from working in Civic Industries to participating in Community Hub programs or working alongside staff as they help clients realise their full potential through individually tailored programs.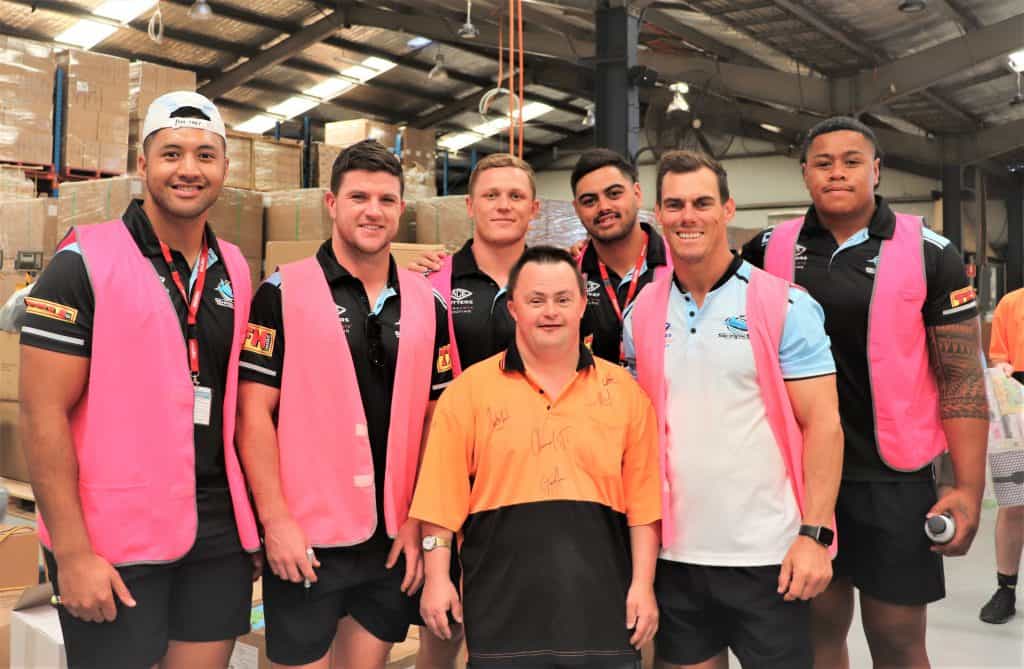 Civic Disability Services
Civic Disability Services provides supported accommodation, employment and social connectivity to some of the many individuals with disability living in Australia. Founded more than 60 years ago, Civic is an ambitious, forward-thinking organisation, which has built on its solid heritage to be a true leader in the disability sector. Defining ourselves as a 'for-purpose' organisation, we are committed to improving outcomes for individuals with disability, supporting them to achieve their goals and make community connections, by investing in innovation, technologies and pilot ideas which drive forward the delivery of disability services.
Cronulla Sharks
The Cronulla-Sutherland Sharks are based in the Sutherland Shire. Since entering the competition in 1967 they have appeared in four grand finals, winning our first premiership in 2016 after defeating the Melbourne Storm. Through their community programs, the Cronulla Sharks aim to inspire, engage, educate and advance equality within the community while being recognised as a world class community and social impact organisation within the Shire and beyond.

Media Contacts
Name: Belinda Franklin
Phone: 9575 1947
Email: Belinda.Franklin@civic.org.au
Name: George Nour
Phone: 0410 907 747
Email: GNour@sharks.com.au