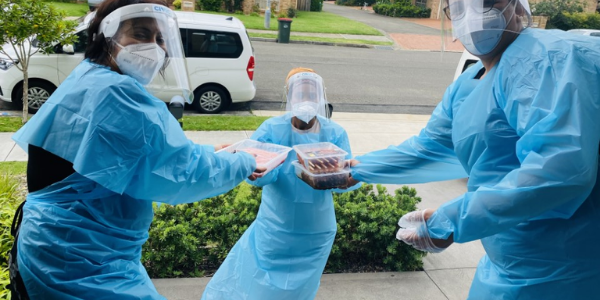 'I felt equipped, safe and protected' – Delivering essential supports in a COVID-19 Positive Environment
As COVID-19 cases continue to climb, the reality of living and working alongside COVID-19 positive cases is suddenly here. And while it can be a confronting reality, it's one we are learning to navigate safely, with measures in place to provide a controlled, safe environment for those who find themselves caring for COVID-19 positive clients.
As Omicron took hold across New South Wales late last year, one team suddenly found themselves in this situation – being called on to deliver essential supports in the face of a positive COVID-19 diagnosis, at a time when many employees were taking time off to celebrate the season with their families and loved ones.
"It's been extremely busy, but also encouraging to witness our team work together so professionally under such difficult circumstances," says Di Beatriz who, alongside a team of three support workers, delivered essential services to a COVID-19 positive client across the Christmas and New Year period.
Following Civic's COVID-19 procedures to the letter, Di, Rosemary, Deb and Precious were able to remain safe and well throughout service delivery.
"Wearing Enhanced PPE (personal protective equipment) throughout your entire shift while providing support is not an easy task for anyone," says Di. "But knowing the PPE supplied to staff is recommended by NSW Health and is the same PPE worn by NSW Health workers eliminated any fear of contracting or taking COVID-19 home to my family. I felt equipped, safe and protected."
It was following consultation with NSW Health in mid-December that Civic took the step to equip all Supported Accommodation sites with Enhanced PPE, comprising KN95 masks, goggles as well as other protective equipment such as gowns and gloves. As Di and her team experienced, the use of enhanced PPE provides a safe environment for staff to work and is critical to ensuring supports can be delivered even when a client is positively diagnosed with COVID-19.
"During shifts the team worked together to ensure they were on top of all COVID-19 procedures and protocols. PPE was changed when needed and deep cleans were conducted regularly," says Di. "Across the two-week period no other staff member became COVID-19 positive –a direct result of the staff's commitment to following procedures and protocols."
While working under challenging conditions staff continued to put clients' and each other's needs first. Staff went above and beyond to help create a sense of normalcy for clients impacted by the positive case protocols, especially to those who were unwell.
"Staff worked together to communicate as much information with each other about clients' needs and routines to ensure little disruption was experienced," says Di. "Open communication was key. We made a rule to watch out for each other. If someone looked tired, we made sure they took a break. We kept an eye on each other's PPE use and checked in on each other's wellbeing frequently".
Staff felt the support from across the organisation as well. Many co-workers went out of their way to let them know they were not alone, ordering breakfast for staff coming off shift, sending coffee and ice cream deliveries, calling to check in and making time to listen and give support wherever needed. These gestures and efforts helped staff stay motivated as they navigated their way through the immediate isolation period.
"I am proud of the way or team worked together," says Di. "Working towards the same goal – to keep everyone well and safe."