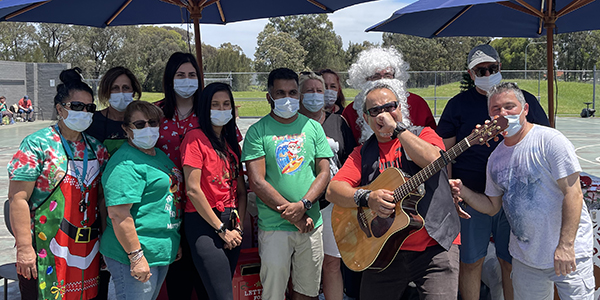 The Memorial Hub was in full swing on Tuesday as the team held their annual Christmas Party!
Close to 100 people attended the party with groups from Camden, Fairfield, Campbelltown, Masonic and New Era hubs as well as those residing independently across greater South Western Sydney, all joining the hubs clients for the Christmas celebration.
The team went all out this year with a wide range of activities including painting, a balloon dart game, a "make your own plant" activity, virtual reality experience, photo station and live band. The local fire brigade with a fire truck and new Civic heart mascot came along to say hello as well.
Everyone had fun participating in the different activities and dancing along to the band before sitting down together for a delicious festive feast, prepared by the Memorial Hub team.
After lunch it was time for the much-anticipated visit from Santa who came to wish everyone a safe and happy holiday and give them all a special present to take home.
Congratulations and thank you to the entire team for creating such a wonderful experience for everyone.