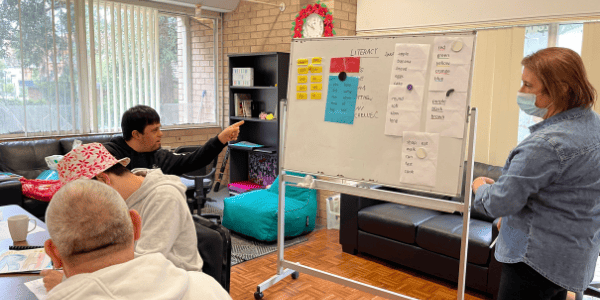 A new program has been introduced across three Civic Community Hubs this year, designed to help improve literacy skills for people with disability.
The program has been developed by Jeanette Cabrera, a support worker, who has been part of the Civic team for over 30 years. Jeanette started her career in the disability sector managing a 'Semi Independent Living Skills Program,' providing five clients individual programs such as cooking, money management, travel training, cleaning procedures and personal care. From there, Jeanette moved to deliver individual supports and life skills training – an area Jeanette is passionate about.
In 2018, Jeanette started working at Civic's community hubs. She quickly realised her life skills training could help make a difference to individuals accessing the hubs. Since then, Jeanette, has poured her enthusiasm and efforts into introducing engaging programs where participants are supported to learn in a fun, vibrant environment.
The Literacy Program kicked off in March at Civic's Masonic Hub, with six people joining the program, meeting each Friday for 1 ½ hours. It proved so popular, the program has grown to now include members from Civic's New Era and Liverpool hubs. Currently, there are up 16 people taking part in the weekly program.
"It's a diverse group – all with varying skills levels and abilities. We include everyone, and they are so enthusiast and excited to come to class each week and put the effort in," Jeanette said.
An important part of the program is helping people build confidence and improving their communication skills.
"We always start the class with alphabet work and writing out our names. This consistency is proving to be successful, and the participants really enjoy it," says Jeanette.
"Learning to write your name, reciting the alphabet and forming small sentences, are big steps for some of our participants. They are so proud of themselves – and so they should be".
Jonathan has been attending each week and takes great pride in writing his name and improving his reading skills.
In addition to learning to write and recite the alphabet, the program also looks at sight words, sounding out and practicing writing words in dot-to-dot tracing format. The group also learns about verbs, adjectives, nouns, colours, adding these words to the sight word groups to form sentences. As well as using their workbooks, magnetised letters and boards are also used to practice writing words and sentences. Jeanette aims to introduce home readers books to the activities soon.
"It's not easy for Jonathan but he tries hard each class and give it his best shot. I am blown away by what he accomplishes each week."
Miele, who has also been attending weekly, shows improvements week on week and is now up to writing out sentences on the magnetic boards.
Designed to engage and provide an opportunity to connect with others, Jeanette infuses an element of fun to the program each week. Each week there are fun learning games and morning tea is served at the end of each class.
Jeanette says it's been wonderful watching participants blossom and grow in confidence each week. "Everyone is so responsive and tries really hard. I just love my job."