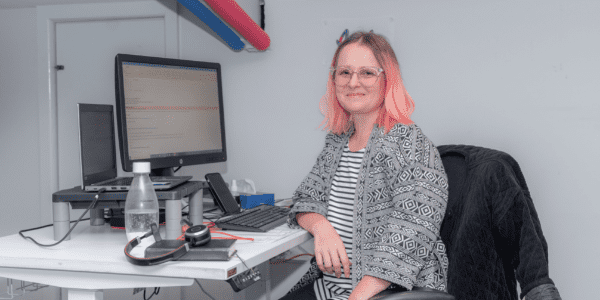 Angela van Gessel – Support Coordinator
Recently Angela shared with us her employment journey at Civic – how she came to be part of the Civic team, what attracted her to her new role and what she loves about her Life at Civic.

Angela joined Civic's Customer Experience Team in 2020. At the time she was studying Certificate IV in Community Services and was looking for a new role that aligned with her passion for human services – one of the largest industry areas in Australia.

"I had researched Civic online as was impressed with the impact the organisation was making in the community and in lives of so many individuals," recalls Angela. "I was excited to apply to work as a Customer Experience Partner at the organisation."

Without any experience in the disability sector, Angela was unsure if she would be successful in her application. But during the interview process with Senior Account Manager, Justin Lund, and General Manager Customer Experience & Brand, Lizzy Fowler, Angela was able share how her experiences as a Sales Executive and Retail Planner equipped her to take on the role and highlight the skills she would bring to the team.

Having been offered the role, Angela joined Civic in October 2020 and didn't waste any time proving herself to be a valuable member of the team. Angela quickly realised her passion for connecting with clients and their families, assisting them with their service agreements and supports, while also shining through the support she offered to other members of her team.

In her role as Customer Experience Partner, Angela was responsible for connecting potential clients with support services and onboarding new clients into service delivery. Joining the team at the same time as a significant change to the way in which Supports in Employment was funded, Angela began to explore and learn about Supports in Employment, building a great working relationship with the Industries' Employment Supports team and Supported Employees.

"Angela's collaboration across the organisation, with key stakeholders and clients, proved invaluable when we came to transition our supported employees' funding between July and December 2021," says Justin. "Because she had established relationships with both clients and their families, she was able to support in the successful communication of what was a relatively complex change to our clients' funding agreements and schedule of supports."

Using her knowledge and skills, Angela was also able to support her teammates, building a pricing model tool that allows anyone in the team to calculate the correct pricing for new supported employees.

Almost two years into her career at Civic and Angela's passion for client engagement had been firmly established. Supported by the solid foundational NDIS knowledge she had acquired in her role, Angela was able to take the next step in her career and apply for – and secure – the role of Support Coordinator at Civic earlier this year.

"In my time in CET I loved working with clients and their families. In my new role as a support coordinator, I am looking forward to developing new relationships with my clients and helping them to achieve their goals and reach their potential," Angela says.

As Angela's General Manager, Lizzy believes it's important to support all employees to follow a similar career progression.

"Our mission at Civic is to realise human potential – for our clients and our employees. Our role as leaders is to help develop our team members' potential and support them in their career," she says. "It has been an honour to watch Angela develop her skills and knowledge and to build on the impact she's able to deliver to those we support."