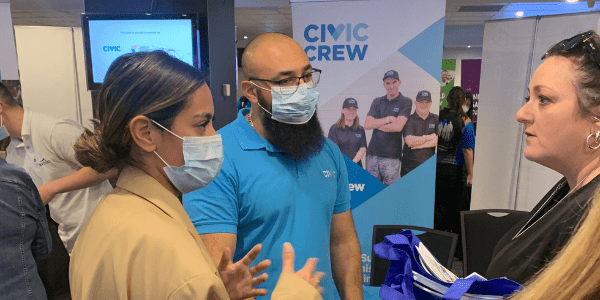 On Wednesday, Civic took part in the South East Sydney Post School Expo for Students with Disability. The expo was held at Gymea Tradies and provided school leavers with disabilities and their families an opportunity to visit a variety of services to discuss the options available when they leave school.

Civic's staff, Mark Saweriss, Cherish-Rose Tangohau and Tracie Junghans were on hand at the expo, connecting with families and students and helping them to explore the many options available. The expo also included a 40 minute 'Supportive Decision Making' information session.

"Expos like this are important as they help students and families navigate the important transition from school to the workplace or community participation," said Mark Saweriss.

"Civic's social enterprises, Kitchen and Catering, Industries and Civic Crew offer students who are eager to enter the workforce a supportive environment to learn and develop workplace skills. Many families and students are eager to visit the sites, as well as our hubs and community programs."

This expo was presented by a volunteer committee led by Civic, Disability Services Australia, The Disability Trust, Northcott and NSW Education Student Transition Teachers, Amanda Hurst and Karmen Courtney. 
If you have any questions about Civic's employment services or community programs please contact our Customer Experience Team on 1300 692 484 or email enquiries@civic.org.au.
The expo was proudly supported by Tradies Gymea