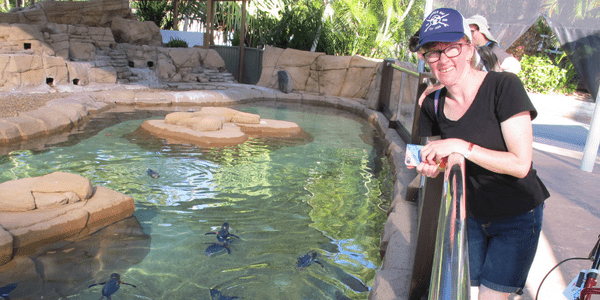 Renowned for its thrilling theme parks, amazing beaches and vibrant nightlife, the sun-drenched Gold Coast is a popular destination for anyone planning a holiday. But there's more to the Gold Coast than its night life and weather, as a group of Civic holidaymakers recently discovered.
Helen Panigiris, who has spent much of her career planning accessible and inclusive group holidays, understands the importance of creating experiences that suit the group as well as the individual, ensuring everyone gets as much out of their holiday as possible.
"Each trip is personally planned. All the travellers need to do is pack their bags and get ready for a fun-filled adventure!" says Helen, who recently accompanied a group to the Gold Coast.
"We also aim to keep groups to similar ages and interests so if people don't book with friends, they're likely to make some during the trip."
While Civic's year-round holiday program was interrupted during the initial phase of the COVID-19 pandemic, the program is now fully back up and running, and the first week-long Gold Coast holiday for 2022 took place in May. The jam-packed itinerary included everything from up-close wildlife encounters to thrill-a-minute theme parks.
One holidaymaker, Natalie Smith, who had booked the trip with a group of friends, couldn't wait to set off to the sunny Gold Coast and was thrilled to see that the holiday would fall on her birthday.
With one of Natalie's dreams to touch and kiss a dolphin, Helen set about booking a visit to Sea World on the day of Natalie's birthday to help make the encounter extra special and create an experience and memory that will last a lifetime.
''We really do try to make everyone's holiday dreams come true," says Helen. "As soon as Natalie shared her dream of getting up close to a dolphin, I went to work to make sure we could make her dream not only come true, but make it happen on her birthday as well."
Meeting the dolphin really was a dream come true for Nat and was certainly the highlight of her trip.
"I loved watching the dolphin show, they are so clever can do so many tricks," she says.
"After the show we got to meet the dolphins. I felt so excited and special on the day – the dolphin even gave me a birthday kiss!"
With all the excitement of meeting the dolphin, there was still plenty of time to relax, unwind and enjoy spending time with friends. The group of friends also enjoyed spending a day at Movie World, where everyone got a little star-struck meeting Batman and Scooby Doo.
For Natalie, the holiday also supported her to connect with family, taking some time to catch up with her Queensland-based Auntie, who joined the group for dinner.
"As my Auntie lives in the Gold Coast it was wonderful to be able to make the time to catch up with her while on holidays. I wouldn't be able to do that outside of this holiday," recalls Nat.
Having enjoyed her time away so much, Natalie was quick to book in for a return Gold Coast holiday, jetting off again with Civic and a group of friends. And while the destination was the same, the tripe's itinerary was a little different, offering a few more highlights of Gold Coast – feeding the friendly lorikeets at Currumbin Wildlife Sanctuary and a fantastic night out at the Australian Outback Spectacular Show. But of course, for Natalie and her friends, a trip to the Gold Coast wouldn't be complete with a visit to Sea World to catch up with old Dolphin friends.
Civic Disability Services supported holidays for people with disability are tailored to provide you with a holiday to remember.
You can view the 2022 Get Away holiday program here.
All supported holiday bookings and enquiries can be directed to our friendly Customer Experience Team
Phone: 1300 692 484 (1300 MYCIVIC)
Email: enquiries@civic.org.au