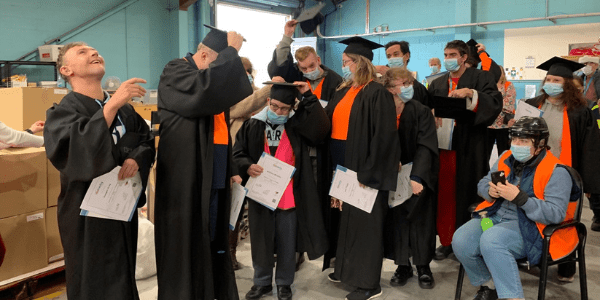 Last week in Civic's Industries, celebrations were taking place – congratulating 31 employees on their successful graduation from Workplace Skills Cert 2 and Work Health and Safety Cert 3. 
 
It's been a long road for the students, who began their learning 15 months ago. On top of the skills they learned through the course, the Civic supported employees were also taught how to navigate Zoom lessons, continuing their learning through not one but two lock downs. 
 
To mark the completion of the courses, Industries invited families and friends to gather for a barbecue, with each Graduate receiving a certificate in an official ceremony. During the ceremony, graduates were also put to the test with a WHS quiz. "The moment was as special as all the graduates," commented Elisabeth Moody, Supervisor. 
 
"Continued education and learning is central to our work ethic at Civic and I'm proud that we've been able to support so many employees to take part in and complete this training successfully while also managing their existing workload and navigating lock downs," says Peter Moore, General Manager Industries. 
 
Congratulations go to: 
 
WHS Cert 3: Aaron Goldsworthy, Andrew Mackerlie, Barbara Paruk, Bruce Kilkeary, Chelsea Mercer, Daniel Schuetrumpf, David Sorensen, Jason Sturnman, Joshua Kitchen, Kanyapt Robinson, Lori Campbell, Samuel Colby, Shaun Oldaker, Shenaye Green and Theresa Stevens.
Workplace Skills Cert 2: Andrew Beck, Anthony Mirabito, Brad Balderson, Catherine McDonald, Dane Raper, Jane Thorpe ,Joshua Harding, Keegan Gray, Lauren Archer, Martin Anwar, Michael McGee, Natalie Smith, Sharon Smith, Rhianna Sinclair, Sharon McCarthy, and Tegan Zwart.