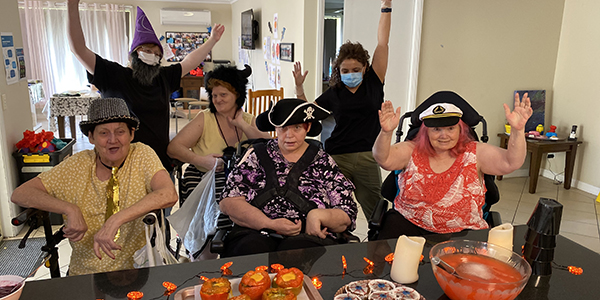 Life at Civic this week was full of scary sights as everyone embraced the spooky spirit of Halloween…and the race that stops the nation.
From skulls, ghosts, witches, black and orange streamers, to carved pumpkins and scary spiders, it was lovely to see the many decorations displayed in homes, at the Hubs and at Industries – all in place and ready for a week of Halloween traditions.
On Halloween, Sunday 31st October, celebrations were in full swing with people working together to carve scary Jack O Lanterns, lots of fun with Halloween dress-ups, scary feasts, and Halloween parties and Spooky Funday BBQs with friends.
But this week was not just about celebrating Halloween. On Tuesday, one of Australia's long-standing traditions the Melbourne Cup horse race was held. Once again, our Civic community was ready for action!
Many houses celebrated with fashion shows and Melbourne Cup lunches. While the team at Civic Industries decided to combine Halloween with Melbourne Cup for an afternoon full of scary celebrations.
What a frightfully fun week!