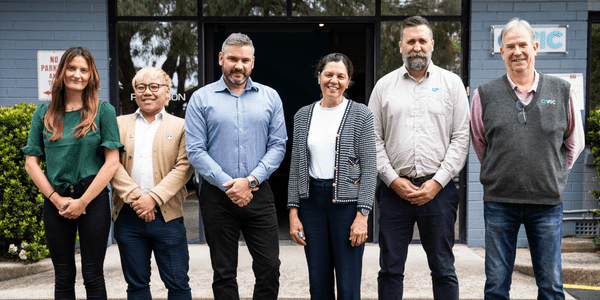 This week Civic welcomed representatives from BGIS, a leading provider of facility management services, to Civic's Head Office in Sydney's South. The visit marked the start of a new collaboration between BGIS and Civic, which aims to improve workplace access, participation, and inclusion for people with disability, providing employment opportunities across BGIS' facilities management services.
On site to welcome BGIS, Civic CEO Annie Doyle says the collaboration between Civic and BGIS is aligned with both organisations' commitment to creating inclusive workplaces and providing meaningful employment opportunities for individuals living with disability.
"Civic has long been committed to addressing social inequities, including equal access to employment opportunities for people with disability and other empowered communities," says Annie. "We are delighted to work together with BGIS to provide meaningful and stable employment opportunities to individuals living with disability, enabling them to better plan for the future and exercise choice and control over their lives."
Statistically, people living with disability face far greater challenges securing employment than those without disability. Currently, the labour force participation rate for people of working age with disability is 53% – compared to 84% of people without disability. 
Civic has a long history of supporting those with disability, including those with intellectual disabilities, to access employment and strengthen their financial independence. Working together with BGIS, Civic hopes this impact can be extended, helping remove barriers to employment experienced by so many.
"Civic has long believed that together, we do better, and we remain committed to collaborating with like-minded, impact-driven organisations such as BGIS in order to deliver experiences and opportunities that can be truly life changing for the individuals we support," says Annie.
Through Civic's award-winning Civic Crew model, a number of NDIS participants will receive support to access and maintain employment delivering housekeeping services across a number of Department of Defence Barracks, serviced by BGIS.
"The development of this relationship is a wonderful example of how two organisations working together can be part of the solution," concludes Annie. "We look forward to working together with BGIS to create outcomes for people with a disability while inspiring the rest of Australia to achieve greater diversity in the workforce."