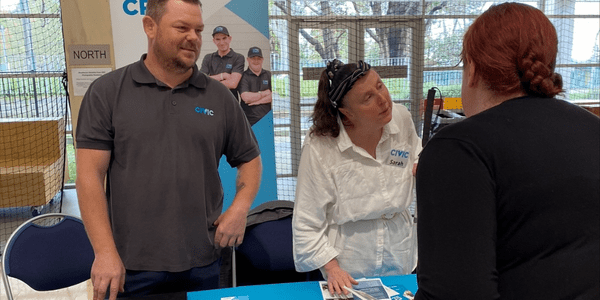 On Wednesday, The Shoalhaven Disability Expo returned for its eighth year, connecting hundreds of attendees with support services, courses and groups available in the area.
Civic's Marketing Manager, Tracie Junghans, alongside Joel Grove, Food Experience Manager and Sarah Elliot, Chef de Partie at Civic Café Nowra, were there to greet attendees and share information about Civic's support services and employment opportunities.
During the event, many attendees were eager to visit the Civic stand to chat about Civic Café Nowra, including Shoalhaven City Council Mayor Amanda Findley who was quick to praise the café and its staff.
Speaking to Sarah, Mayor Findley said how much she enjoys visiting the café – and how she is a regular customer who pops in each time she is in the area.
Attendees were also excited to hear about the supported employee positions currently available, with many individuals planning a visit to the café to meet team and discuss joining the team.
"The expo is a not only a great opportunity to show case our services, but a wonderful opportunity to showcase our greatest assets – our people!" said Tracie.