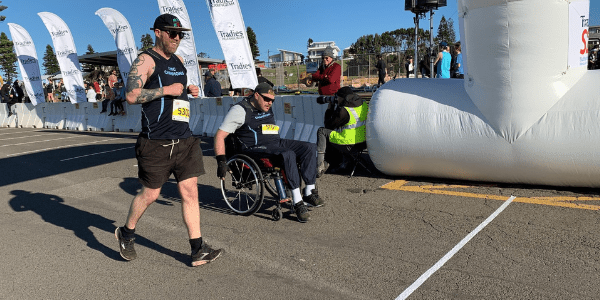 As one of the official partners of the 50th Sutherland to Surf charity run, Civic volunteers were on site, setting up at the finish line in Cronulla as the sun rose on perfect conditions last Sunday. At the same time, 30 members of the Civic community of all abilities were setting off for the start line, ready to kick off the 11km race. 
Supporting the race in its 50th year, Civics' goal as a partner was to ensure this race was the most accessible and inclusive in the event's history. And it really was. Volunteers from across Civic came together to support clients to take part and complete the race together, demonstrating the power of mateship.
Cameron, who took part in the race along with his brother Byron, credits his time of 1 hour 35 minutes to the support received from Justin, senior account manager at Civic.
"I wanted to thank Justin for all the support he gave me during the race and for running alongside me," he said the next day. "I wouldn't have made it as well as I did without him."
Civic's partnership with the event is reflective of the organisation's commitment to having a big impact, ensuring events such as this one are inclusive, representative and accessible to people of all abilities. And, according to Annie Doyle, Civic CEO, achieving this comes down to our people. 
"Our staff don't just speak about accessibility and inclusion, they live it and breathe it, every day," she says.
Annie also believes that partnerships play an important role in driving this impact.
"Civic and Wanda Surf Lifesaving Club were committed to working together to make the race more accessible for people with disabilities," she says. "As an organisation we are always looking to partner with purpose. To form partnerships that drive positive change and empower any person living with a disability to reach their full potential."
Of course, it was a team effort, with Civic volunteers located at the finish line, congratulating winners and handing out medals, and Heartly the Civic mascot was there to high five and cheer the race goers as they crossed the line!  
Civic Kitchen & Catering was also part of the Sutherland 2 Surf village, providing catering for the VIP breakfast and serving up hot coffees at the Civic coffee cart.
Congratulations to the 4000 participants who walked, jogged, ran, or wheeled their way across the finished line. Civic looks forward to being involved in the 2023 Sutherland 2 Surf and invited everyone to join the Civic Champions team.