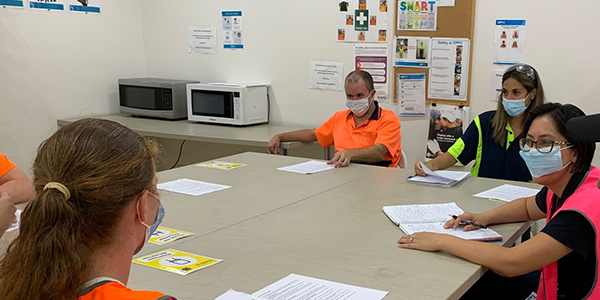 This week, Civic joined people with disability, their families and carers as well as other local service providers to share experiences, feedback, suggestions and insights that will help guide the Sutherland Shire Council's 2022-26 Disability Inclusion Action Plan (DIAP).

Designed to strengthen and develop positive community attitudes and behaviours and create accessible, liveable communities for all, the Council's DIAP is part of the wider New South Wales DIAP, which is aligned to the recently launched Australian National Disability Strategy. At a local level, the community Action Plan aims to improve the lives of people with disability by making Sutherland Shire a more accessible and inclusive community.

Supporting more than 750 clients, it is vital that Civic participates in these consultations to ensure our clients have the opportunity to be heard, providing their own feedback and experiences of the services, facilities and programs that help enable them to participate fully in the community. Many clients have been involved in this consultation and we thank everyone who has taken part to date – the open discussion and valuable input provided will now help the Council develop the action plan.

On Wednesday, Civic participated in the Council's DIAP Round Table. Held online, the event was well attended with over 40 people joining the online discussion. Attendees included local people with disability, their families, business owners, service providers and representatives from Sutherland Shire Council including Mayor Carmelo Pesce.

The Council listened as the group shared their personal experiences in using the local area's transport, services and facilities. Some of the issues voiced by those with lived experience included the lack of announcements on buses for the vision impaired; low levels of pedestrian safety due to uneven footpaths and dim lighting at night; limited access to retail stores in some malls due to shopfront steps; lack of accessible maps in shopping centres; and difficulty securing employment opportunities. Workshops focused on ensuring tangible actions were put in place to address some of these challenges, with significant discussion around the need for increased awareness of these issues in our community.

Following the DIAP Roundtable, a focus group for people with disability was held on Thursday at Civic's Head Office at Caringbah. The group was hosted by Jayne Gan from Sutherland Shire Council with six Civic employees joining the conversation to discuss their own experiences using the local area's facilities, finding a job and opportunities for employment and feeling included and welcome in the Sutherland Shire.

Jayne opened the discussion by asking contributors to share places where they feel welcome and included. The group were quick to answer, sharing that they felt included at work and home.

"Civic is the greatest place to work and where I live is beautiful," said one member of the focus group.

When asked further about employment and training programs, a common remark from the groups was the desire to participate in volunteer work, as well as wanting to access more training but being limited due to costs.

"Where I live is so beautiful but when I go for walks there is a lot of rubbish. It would be good if there were groups that I can join to help keep our areas clean."

"I would like to participate in volunteer groups so I can help people".

"I would like more access to training so I can learn more skills like gardening and bush care."

"I love my job at Civic, it helps me improve and gain skills so I can get another job later."

The group also discussed ways they like to receive information and find out what's happening in their suburbs, with many sharing that they don't use a computer and find it hard to find certain information.

"I prefer to have booklets and pamphlets with pictures rather than use the internet," said another group member.

Jayne also asked for the group's feedback on local transport and footpaths, receiving similar feedback expressed at the DIAP RoundTable, with one member sharing that she had fallen due to uneven footpaths while walking in her neighbourhood.

The group also discussed accessing the library and the need for more recreation activities such exercise groups and opportunities to connect with the community.

Thank you once again for all staff who contributed and shared their own experiences to help the development of the 2022-24 DIAP.

Once the Council has completed its consultation period a draft DIAP will be made available and for review and further feedback in May 2022. Civic will continue to be part of this process and will provide feedback. If you would like to be involved in this process, please contact Tracie Junghans.