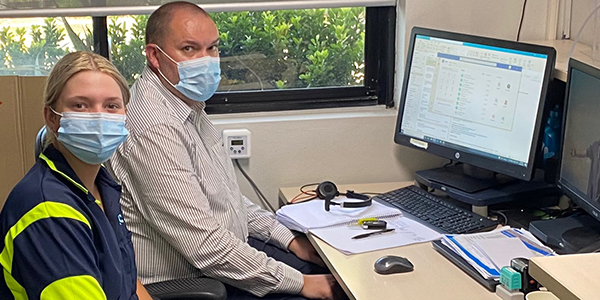 If you've been to Civic's head office lately, you may have seen some new faces at reception. But worry not, Ben hasn't gone anywhere. Rather, he's supporting others to learn new skills and develop experience interacting with clients and directing enquiries.
During lock down last year, the team at Industries took advantage of some quiet time to refurbish a reception room at 101 Cawarra Road. Designed to welcome deliveries and visitors to Civic Industries, the goal was to provide administrative and reception responsibilities to Civic Crew. Fast forward just a few short months and, with everyone back on site, the reception at 101 Cawarra Road is now up and running, with the team providing a dedicated front desk presence.
As part of the program, long-standing receptionist and all-round super star, Ben Cush, is mentoring his peers, sharing his skills, experience and expertise with others.
"The team are learning quickly, and it has been good passing on my knowledge and skills," says Ben.
"We're really excited to establish a front desk presence and administrative support team here at Civic Industries," says Peter Moore, GM Civic Industries. "The Reception here at 101 Cawarra Road not only improves customer experience for suppliers and delivery drivers accessing Civic Industries, but provides a valuable ongoing training program and crucial experience for some of our employees before going on to deliver these services in mainstream settings."
Sadly, little progress has been made on the unemployment rate of working-age people with disability in Australia, which, at 10%, remains twice that of those without disability.
"We are committed to improving the economic participation of those with disability," says Peter. "We're here to support other organisations in recognizing the many benefits of providing equal employment opportunities to those with disability and to support individuals in gathering the experience and skills they need to sustain meaningful employment, which itself has so many long-term benefits."
---
Civic provides a number of employment settings that offer a wide range of work opportunities. Supported by our experienced team, employees will have the opportunity to develop important skills for the workplace – whether working out and about with Civic Crew, or learning barista and hospitality skills in one of our cafes and kitchens. We'll also work with you to determine what meaningful work looks like for you, and support you in achieving your career goals. Importantly, employment services at Civic offer a sense of purpose, as you'll quickly become part of a truly
valued team.
Our Customer Experience Team can get you started on your journey with Civic. Connect with us today.
1300 MY CIVIC (1300 692 484) or enquiries@civic.org.au