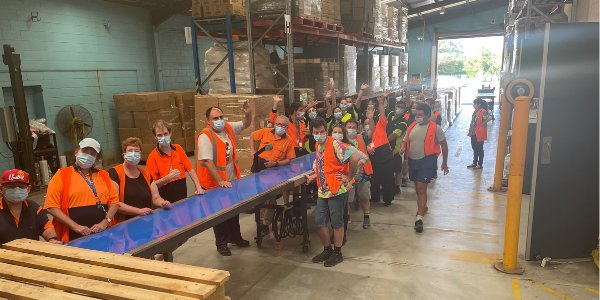 For anyone who has visited Industries at Civic Head Office, you would have noticed two large conveyor belts being used daily by the product assembly teams.
The conveyor belts have seen plenty of action, being in Industries for over 35 years. Today, they are still an essential component of Industries' business, being used to complete various tasks and contracts, including packing the NSW baby bundle bags.
Unfortunately, over time, breakdowns, costly repairs and maintenance have impacted the day-to-day operations and it was decided to replace the two conveyor belts.
Last year, the team submitted a Community Building Partnership grant application to cover the costs of replacing the conveyor belts and were delighted to hear the news the application was successful.
After much anticipation, the new conveyor belts arrived and are in the process of being installed – and the team couldn't be more excited.
"The team are delighted to have the new conveyor belts installed soon. The belts will improve our operations, making it easier for the teams to complete tasks efficiently without any of the shutdown times we experienced with the old belts," says Peter Moore, General Manager of Industries.
Andrew Mackerlie, who received recognition of his 40+ years of service today, said the existing conveyor belts have nearly (but not quite) been here as long as him.
"It's good to see some new conveyor belts getting bought into the factory."
We look forward to seeing the conveyor belts set up and in action soon.
We take this opportunity to acknowledge and thank the NSW Government for providing Civic with the Community Building Partnership (CBP) program grant to fund this important equipment upgrade.