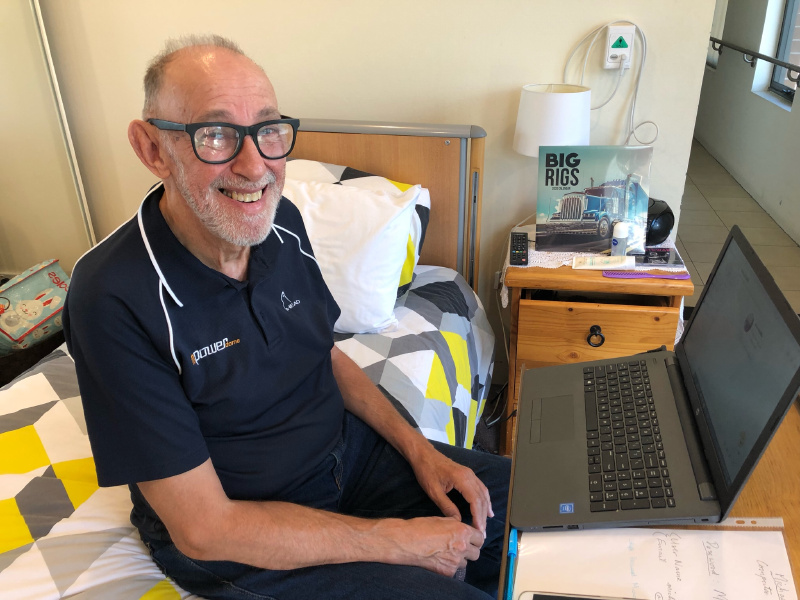 Over the past few weeks, people everywhere have been coming to terms with a new way of life. From catching up with friends and family over the internet to maintaining social distancing. And the Civic family is no different, with coronavirus affecting the way in which our own essential services are delivered to people living with disability across NSW. At the same time, our news feeds have been inundated with often shocking statistics, and many face untold disruption in their lives. But while everyone plays their part to #flattenthecurve, and prevent the further spread of Covid-19, stories of strength and inspiration have shone through.
In recent weeks we have seen the true nature of our community, witnessing some truly wonderful, heart-warming and selfless efforts when it comes to remaining upbeat and positive in spite of the pandemic.
With the temporary suspension of community and centre-based activities as well as supported employment, many individuals living with disability have found their day-to-day lives and routines disrupted. However, being physically distanced does not mean being socially disconnected.
Over the past few weeks, our front line workers have supported clients as they get to grips with new technology to stay connected with friends and family; find innovative ways to get in some much-needed physical activity; try out different recipes and develop cooking skills; and play music with housemates. So, to brighten your news feed, here are some of the awe-inspiring ways our community are adapting to their new way of life.
SUNSHINE INDOORS
The beaches are closed. But this doesn't bother Rhys. He had sun, sea and sand brought to his home in Caringbah, so he didn't have to miss out on enjoying afternoon tea by the beach, which he was so looking forward to.
Rhys rolled out towels, put up a deckchair and got out his boogie board. Support worker, Josefine even projected a tropical beach scene on to the wall to complete the experience. And the best thing about it: no crunchy sand in their sandwiches, no wet towels and no heavy, awkward beach gear to carry. A win for everyone!
Rhys is now busy planning a circus-themed day, to watch The Greatest Showman.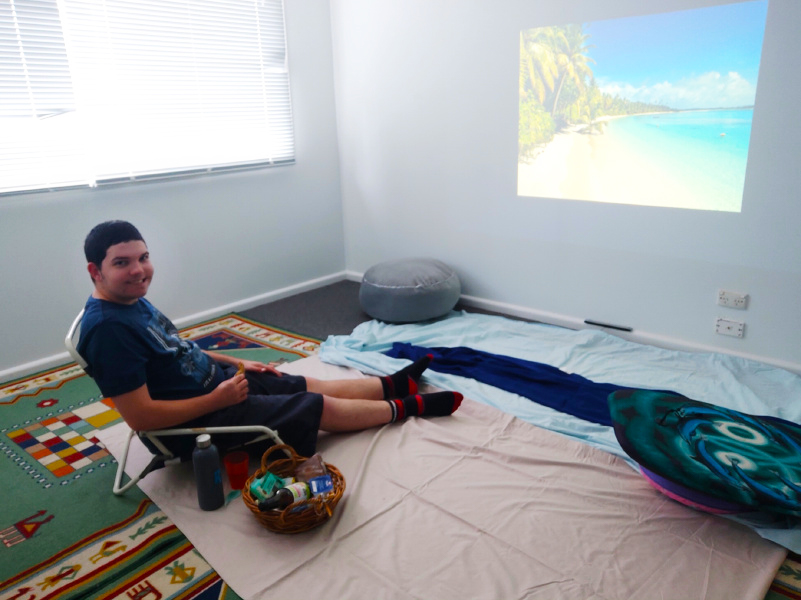 GREEN FINGERS
Community activities are limited, but there are still plenty of excuses to get outside, safely. Yard work and gardening have been a great way for so many of us to remain active and enjoy some fresh air. At Civic, many housemates have gathered together around their outdoor spaces, taking pride in keeping them neat, clearing away leaves and weeds, and planting and harvesting flowers, fruits and vegetables.
Take Josh, Dave and Errol, who have been working hard on their new veggie patch.
"The guys have become very conscious of our impact on the planet and have been working tirelessly for some time now to make more sustainable choices," explains Support Worker, Syed. "In the last year, they've increased recycling, used the return and earn scheme, taken water-wise measures, and now with more time at home, they're taking the opportunity to get their garden in shape and grow their own produce to use at home. They also have plans to start their own compost bin to fertilise their plants."
"The housemates have planted lemon and orange trees, tomatoes, chillies and carrots and they are just starting to see the fruits of their labour emerge. Dave was so thrilled to see a new tiny lemon starting to appear on the young tree he planted. The hard work is finally paying off."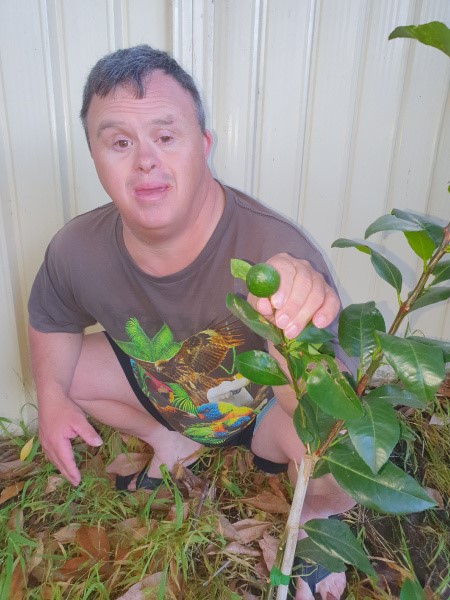 LOCKDOWN JAM
With plenty of time to slow down and learn new skills, Civic residents in Blackheath have been taking the opportunity to get to grips with their musical instruments. Dale has been getting on down and taken to strumming on the electric guitar, while JR has been enjoying some music therapy sessions delivered via video call.
Support worker, Willem says, "Social isolation can't stop us creating. I think it might be time for us to get a band together."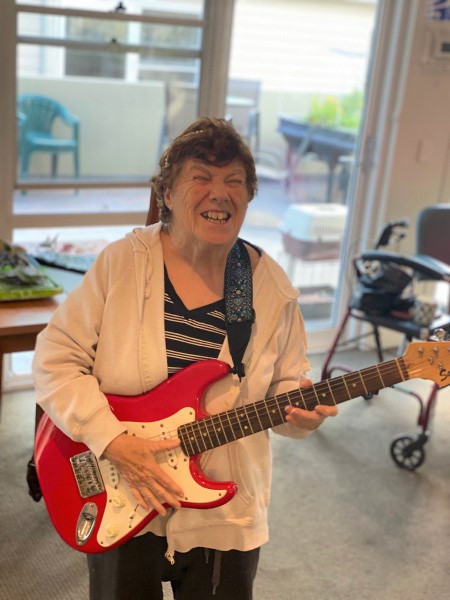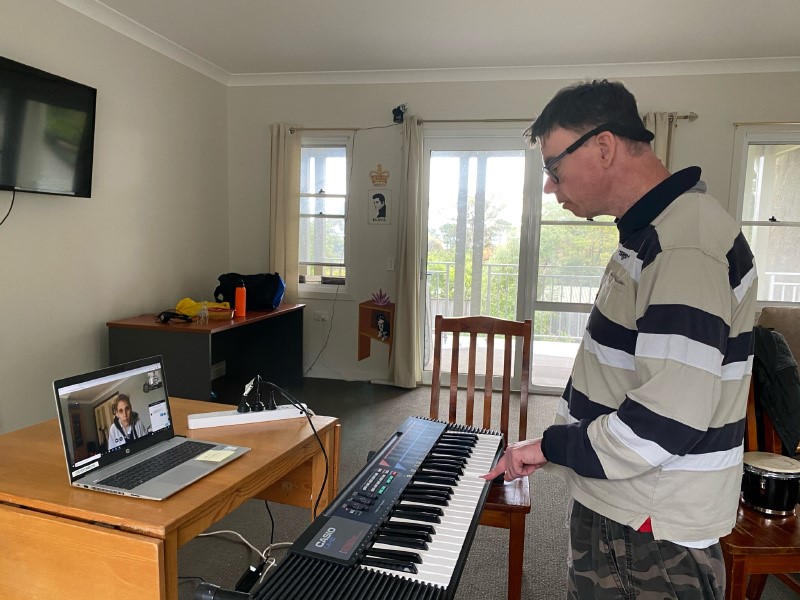 SWEET TREATS TO STAY INSIDE
Baking has always been a popular activity at Civic and now that we're all staying at home, delicious cupcakes and cookies are coming out of ovens in almost every Civic home. Female residents at Civic's Supported Independent Living accommodation in Miranda, have been making strawberry cupcakes.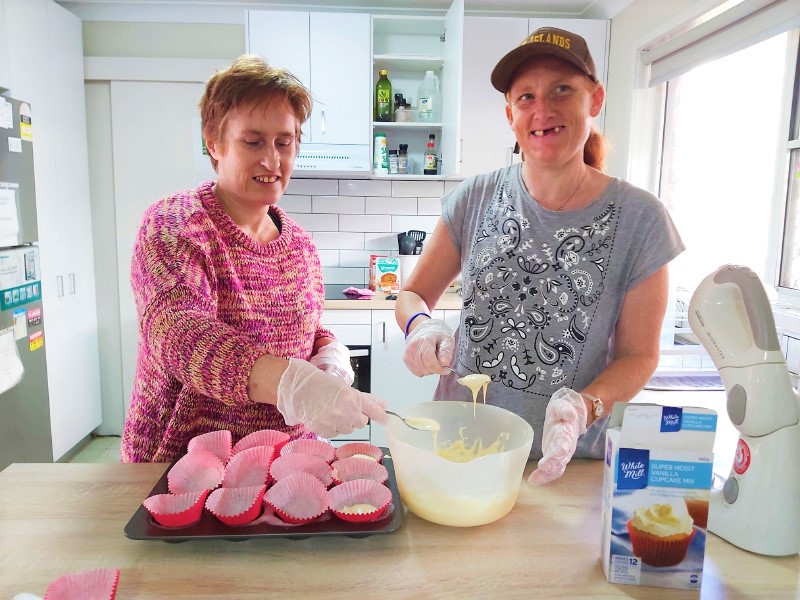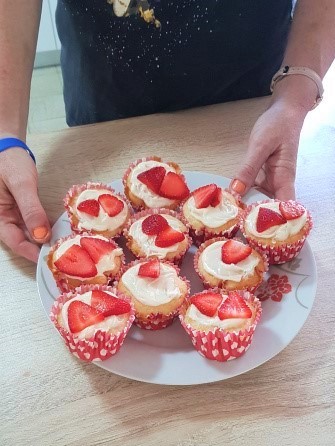 "The guys are already planning to make brownies, muffins and more treats!" says Support Worker, Amy.
Meanwhile, Narelle has been an advocate for healthy treats at her home in Loftus, preparing Date and Oat Bliss Balls for everyone to enjoy.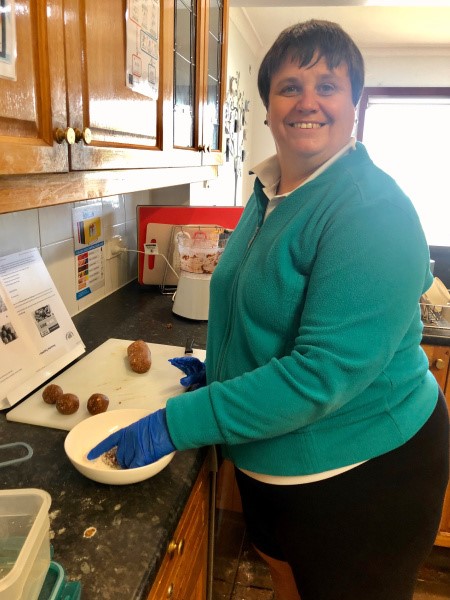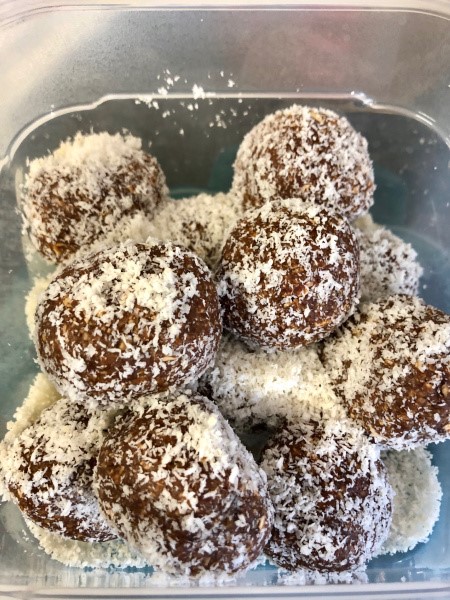 The residents at Narellan, in South-West Sydney, didn't let a shortage of supplies worry them; they kneaded their own dough and made some yummy fresh bread.
CAFE BLACKHEATH
In the Blue Mountains region, Civic residents took things as step further, opening "Café Blackheath" in their own home. Bronwynne got to take orders and serve "customers" while Barry has been the best barista. It was a special breakfast for everyone and brought the community café atmosphere inside to their home.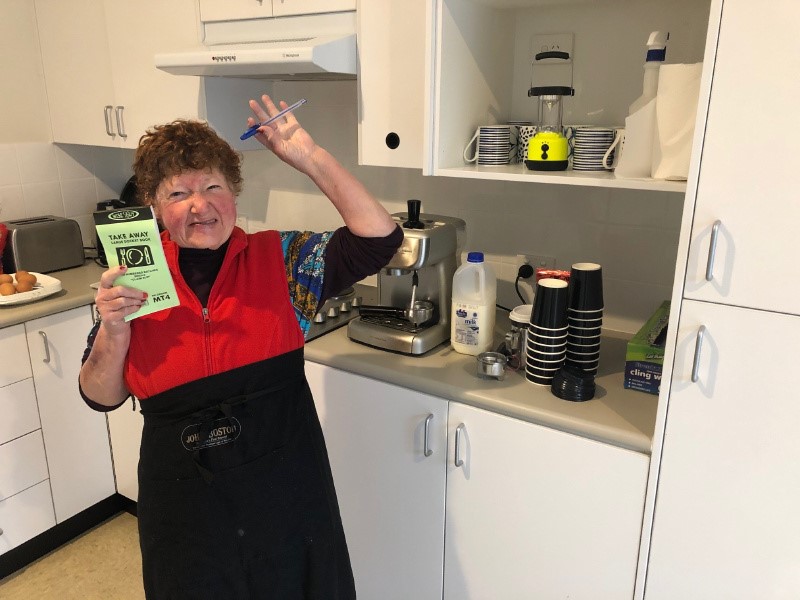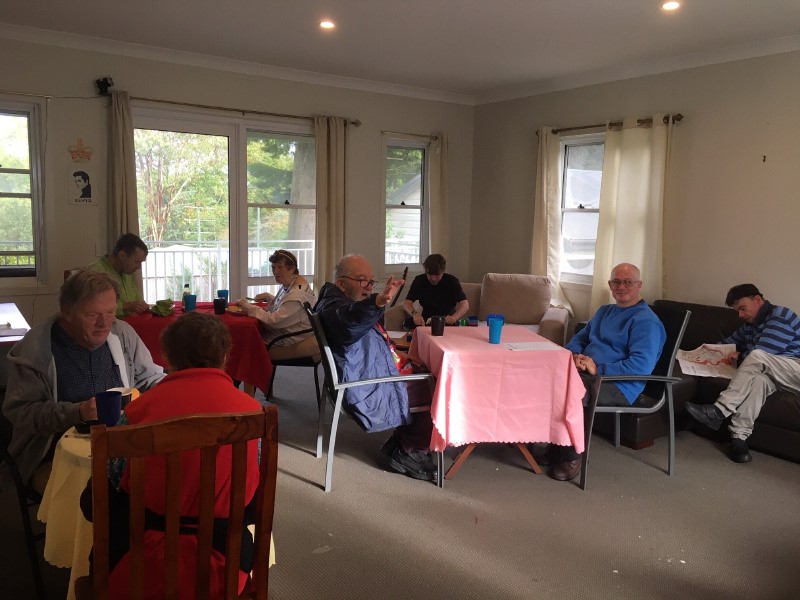 FINDING SPACE FOR SPORT
Swapping the bowling alley for the hallway, Michael at Civic's Supported Independent Living accommodation in Loftus has set up the pins in the corridor of his home, as a way to keep practicing the sport he loves.
There's also been some energetic dancing from Angie with her soft toys and puppets. Her current favourite tune to boogie to is "Ain't Nothin' Gonna Break My Stride". The words seem particularly appropriate for these unprecedented times.
"Despite everything, the last 10 days have been really enriching for all of us at Civic. It's been a journey in getting to know each other better and we are finding ways of valuing each other's strengths and skills," says Support Worker, Alessandra.
"We are doing everything we can to provide little moments of fun and active support throughout the day for residents of our Supported Independent Accommodation homes. Where possible we are taking one individual at a time for a drive or walk, while the rest of the household stays at home, they have various activities to keep them occupied. We've had to be creative and work out ways to do our everyday activities at home. For example, Michael loves bowling and needs his daily dose of physical activity, so created an opportunity for him to play at home. Others like to dance and sing, so we've transformed the lounge room into a disco."
Unable to go out walking, Barry and Adrian have found a new way to get some fresh air and make the most of the recent sunshine; setting up a totem tennis tournament in their back yard at their Blackheath home. The pair have enjoyed smashing the ball around the pole as their daily physical activity.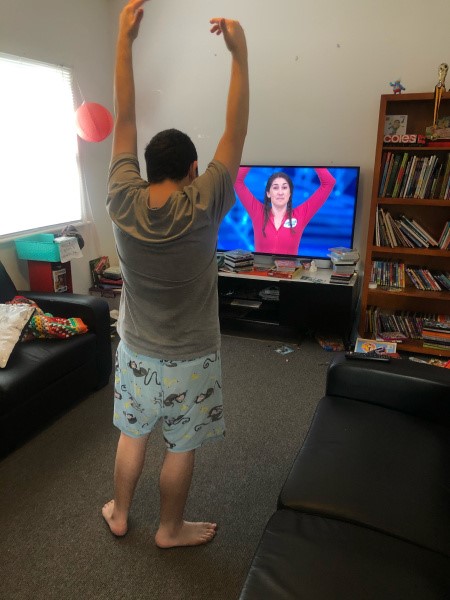 Trusty YouTube has delivered the goods yet again, providing a welcome opportunity to move and stretch. Here we see Rhys, following a step-by-step Cosmic Yoga routine, including mindfulness and relaxation techniques.
CONNECTING THROUGH TECHNOLOGY
In these times of social distancing, vulnerable people are at a high risk of experiencing the negative effects of isolation, missing out on vital connections with their friends, family and the wider community.
Video conferencing apps such as FaceTime, Skype and Zoom have played a vital role, in recent weeks, helping to maintain social contact for many of the individuals at Civic.
With public gatherings a no-no, places of worship remain closed. Narellan resident, Joy was missing her friends from church, so she replaced her usual Sunday visit, with a video call to her friends from Narellan Anglican Church. You can see from the smile on her face that it was a highlight for her to catch up and with everyone and find out what they've all been up to.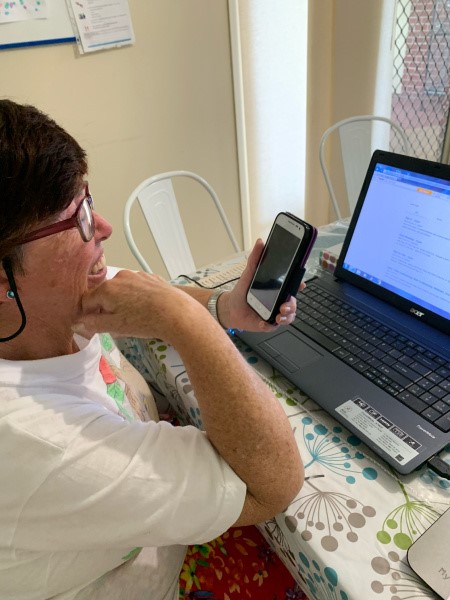 Unable to see his counsellor, Michael has switched to virtual weekly sessions via Skype so he can maintain his progress all from the comfort and privacy of his own bedroom at his Civic home in Woolooware. Michael was thrilled to have the option of using technology to continue his sessions remotely and maintain his progress.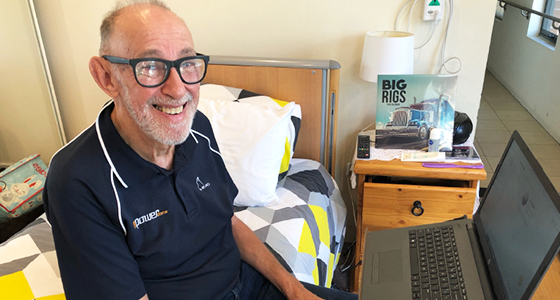 MOMENTS OF POSITIVITY
We hope that these small moments of positivity have offered some light-relief to help get you through these unprecedented times.
Words by Michelle Newman