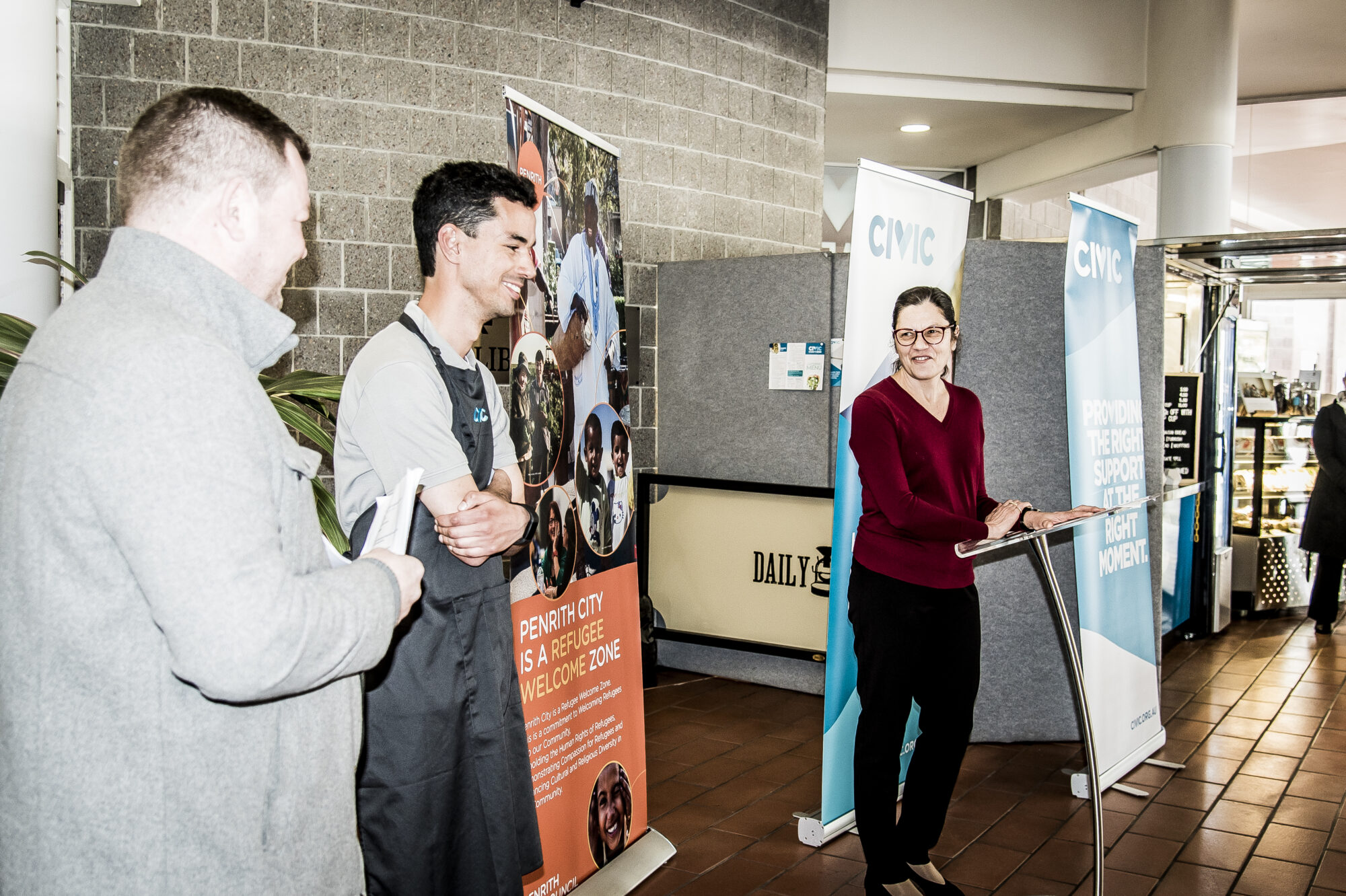 The unemployment rate for individuals with disability remains unacceptably high – twice as high as the national average. Worse than that, it's increasing. Today, people with disability are 10 times more likely to experience discrimination than the general population, yet the benefits of employment – to both the individual and the employer – are well documented.
Longevity of employment for jobseekers with disability is also an issue; a recent report revealed that some companies are hiring individuals with disability to meet diversity targets, then promptly firing them, with no plans for meaningful, long-term employment once the box is ticked.
As Civic is actively working towards expanding its impact in the disability employment sector, with a commitment to fulfil the need and wish of many people with disability to live meaningful, involved lives, we share the experiences of three very different individuals, all with a common goal – to use their talents and build their skills, and work in a job that gives them purpose and independence.
SUCCESS FROM A SENSE OF BELONGING
Kicking some serious career goals, Zakka celebrated his 10 years of working at Civic this week. Initially starting as a supported employee, he has since become a qualified forklift driver, gained a raft of TAFE certificates and is trained in warehousing and logistics. For the last three years, Zakka has also been working two days per week as part of a Civic Crew undertaking important admin work with the Australian Defence Force at Holsworthy, and recently became a supervisor for the team.
Having now transitioned out of supported employment to become a staff member, Zakka is enjoying increased responsibility. He puts his success down to the fact he has a true sense of belonging which allows him to feel secure, supported and accepted the workplace. He said: "I have true friends here, and I feel like I am part of everything. Everyone is genuine and encouraging; they take the time to ask if you are okay."
Prior to joining Civic, Zakka had a variety of different roles, but said he found it difficult to join in conversations with colleagues because of his disability and he felt a bit of an outsider. By contrast, he relishes his role with Civic. He said: "I have so many friends here, we have barbecues, and we go bowling every Sunday."
When asked about what the future holds, Zakka said: "I see myself here at Civic for a long time. I have been volunteering at one of the Civic houses, so maybe moving towards support work. I have also just started learning website building and design in my spare time, so maybe that's something to look at next."
MARTIN'S BREWING AMBITIONS
Moving closer to his long-term goal of working in open employment as a barista, Martin has been brewing up a storm, as a supported employee with Civic Kitchen & Catering, making around 50 coffees per day for his colleagues at Civic, all while building his customer service skills, food industry knowledge and perfecting his barista techniques.
Martin initially joined Civic seven years ago, working as a picker and packer. He very much enjoyed working as part of a team and the buzz of the busy workplace, but he found his true calling once Civic introduced its specialist Social Enterprise businesses – Civic Kitchen and Catering – becoming a founding employee at its food service training site in South Sydney. From there his passion for coffee making began.
"It's quite hard to make a good coffee, you have to get everything just right." Said Martin. "The best part is frothing the milk, but I also like taking orders and chatting to people. I'd like to have my own café one day."
THE START OF A PROMISING CAREER FOR KIERA
After searching for work for six months and finding nothing that suited her needs, 19-year-old Kiera was determined to remain positive and upbeat, keeping an open mind about opportunities that came her way. She joined Civic as its 150th supported employee in late 2019 and couldn't be more thrilled to be part of the team.
Working in a business administration role with Civic Industries, in just a few months, Kiera has made a huge impact, with her can-do attitude and passion for supporting others.
"This is really just the start of Kiera's journey" said Michelle, Employment Support Partner at Civic. "She has so much potential, and as we work with Keira to map out her interests and build career goals, we are really excited to see where it takes her."
If you have a disability and are looking for work, read on to find out whether supported employment might be right for you.
WHAT IS SUPPORTED EMPLOYMENT?
Supported employment provides individuals with disability the appropriate, ongoing support that is necessary for success in a competitive work environment. Employees are supported to complete work tasks and develop new skill.
HOW DO I BECOME A SUPPORTED EMPLOYEE?
If you have a disability and want to learn new skills, earn a wage and make new friends you can raise this at your next NDIS planning meeting with your Support Coordinator, Local Area Coordinator (LAC) or NDIA planner who will help you explore your employment goals. Questions they may ask include:
• If you haven't thought about getting a job, can you tell us why?
• Do you have any specific work skills, qualifications or work experience?
• Have you completed any courses?
• What level of education have you completed?
• Do you look after your own money?
They will then work with you to set an employment goal and help you to secure funding to reach this goal. NDIS funding for Supported Employment is called "Finding And Keeping a Job."
FINDING A JOB THAT YOU LOVE AT CIVIC
Civic is proud to offer a wide range of employment opportunities to suit various skill levels, together with training and workplace safety. And, like most workplaces it's a great place to make friends, earn an income and learn new skills. Fostering independence and community participation, these roles support the needs and wishes of individuals with disability to live meaningful, involved lives.
• Civic Industries – is an Australian Disability Enterprise offering a variety of roles for different skill levels in a supportive environment. Types of work available include:
o Warehousing and storage
o Promotional packing
o Labelling
o Paper shredding and paper shredding.
• Civic Kitchen & Catering – is one of Civic's specialist Social Enterprise businesses, serving delicious food and good quality coffee through its cafés across the Sutherland Shire, Merrylands, Penrith and in the Shoalhaven. Employees with disability are supported to work and build skills in the food-service industry, including food preparation, barista skills and customer service.
• Civic Crew – is an award-winning social enterprise, actively breaking down barriers, and ensuring more companies are provided with a framework to successfully integrate people with disability into their workforce. Civic brings together a team of individuals with disability, together with an on-site supervisor, providing them with support and training to work within different businesses in the community. Civic crew roles include:
o Administration
o Warehousing
o Events
o Hospitality
o Cleaning
o Catering
o Car washing
o Lawn care
To find out more about Supported Employment opportunities with Civic please contact the Customer Experience Team on 1300MYCIVIC (1300 692 484) or email enquiries@civic.org.au
Note: Supported employment services are currently suspended due to the COVID-19 pandemic. For more information, click here.